Each day we overwhelm your brains with the content you've come to love from the Louder with Crowder Dot Com website.
But Facebook is...you know, Facebook. Their algorithm hides our ranting and raving as best it can. The best way to stick it to Zuckerface?
Sign up for the LWC News Blast! Get your favorite right-wing commentary delivered directly to your inbox!
Politics
REPORT: Looks like NYC Might be Responsible for Spreading COVID Nation-wide
May 07, 2020
If you're looking to blame someone or something for the spread of COVID, look to the Big Apple. According to the New York Times, Governor Cuomo's New York, but more specifically, Bill de Blasio's New York City, shoulders most of the blame. Now how COVID-19 spread versus how previous flu strains have spread, I'm honestly not sure. But as people are pointing fingers and wondering who did what, who didn't do enough, and who is responsible for this thing or that thing, at least in this case the answer seems to be New York City.
The research indicates that a wave of infections swept from New York City through much of the country before the city began setting social distancing limits to stop the growth. That helped to fuel outbreaks in Louisiana, Texas, Arizona and as far away as the West Coast.

"We now have enough data to feel pretty confident that New York was the primary gateway for the rest of the country," said Nathan Grubaugh, an epidemiologist at the Yale School of Public Health.
This conclusion was drawn based on genetics of the virus that is widely contracted across the country. NYTimes writes about two lines of the virus, one from Washington State, the other from New York. The New York line seems to have spread itself faster and wider than the strain from Washington State.
Here's a snippet of the full graph from the Times. Yellow is Washington. Red is New York.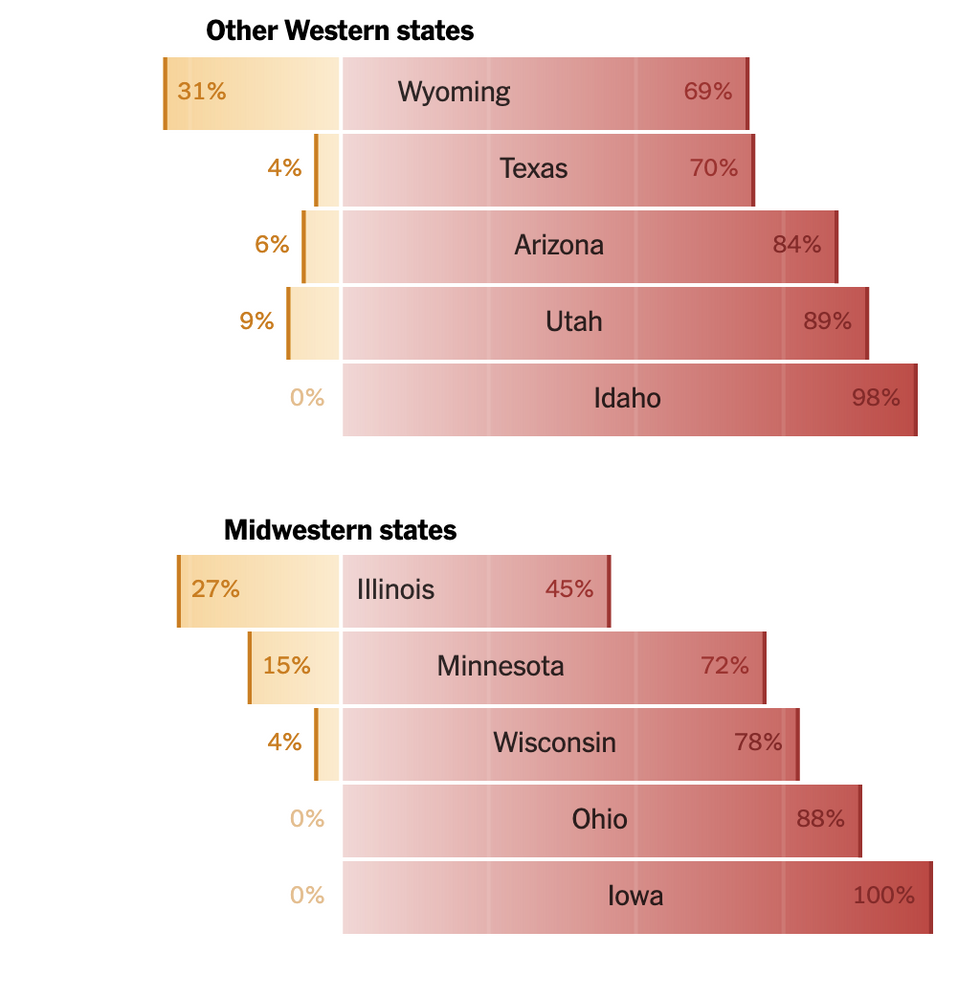 Just a snippet so NYTimes doesn't get upset. Check out their article for the full graph.New York Times
Now I still maintain this virus is a dud. Most of either the red or yellow cases represent people who are fine, will be fine, were always going to be fine. Media is acting like if you're infected with COVID, your life is basically over.
Wrong.
But it does seem like, at least based on this report, that New York City is largely responsible for the spread of the virus nation-wide. Since hindsight is 20/20, it probably stands to reason if any state should've been shut down, it was New York. Not Florida, California, Texas or any other state. Just New York. That is if you go along with the idea that shutdowns are the way to go.
I still think they're not, and would love to see if influenza A and B are also spread similarly, coming from one massive city like New York.
For now, though, if we're going to blame people for COVID, blame de Blasio and Cuomo.
Or we can just get back to our lives, remembering this virus wasn't worth all these shutdowns to begin with.
Steven Crowder's Challenge to Chris Cuomo! | Louder with Crowderyoutu.be
Not subscribed to the podcast?Fix that! It's completely free.