Each day we overwhelm your brains with the content you've come to love from the Louder with Crowder Dot Com website.
But Facebook is...you know, Facebook. Their algorithm hides our ranting and raving as best it can. The best way to stick it to Zuckerface?
Sign up for the LWC News Blast! Get your favorite right-wing commentary delivered directly to your inbox!
cringe
Watch: Woman meltsdown smashing 100s of bottles of booze in what should be considered an act of domestic terrorism
March 10, 2023
We here at the Louder with Crowder Dot Com website enjoy sharing viral videos to help break up the suck that is covering politics and culture in 2023. But rarely has a video been so triggering. I am literally shaking as I arrange the words in what I hope is a compelling fashion. This is less content as much as a clear act of domestic terrorism. A woman had a meltdown in a liquor store and destroyed bottles of liquor. 100s and 100s of bottles of booze. Dead.
I should specify, it should be considered an act of domestic terrorism if it didn't take place in the UK. They are more concerned with people praying there. Though, it could also be New Zealand because as has been revealed in the past, I stink with accents. Just watch.
Look at the carnage. I'm not one for hyperbole. But this is worse than when we dropped the bomb on Hiroshima. Times January 6th.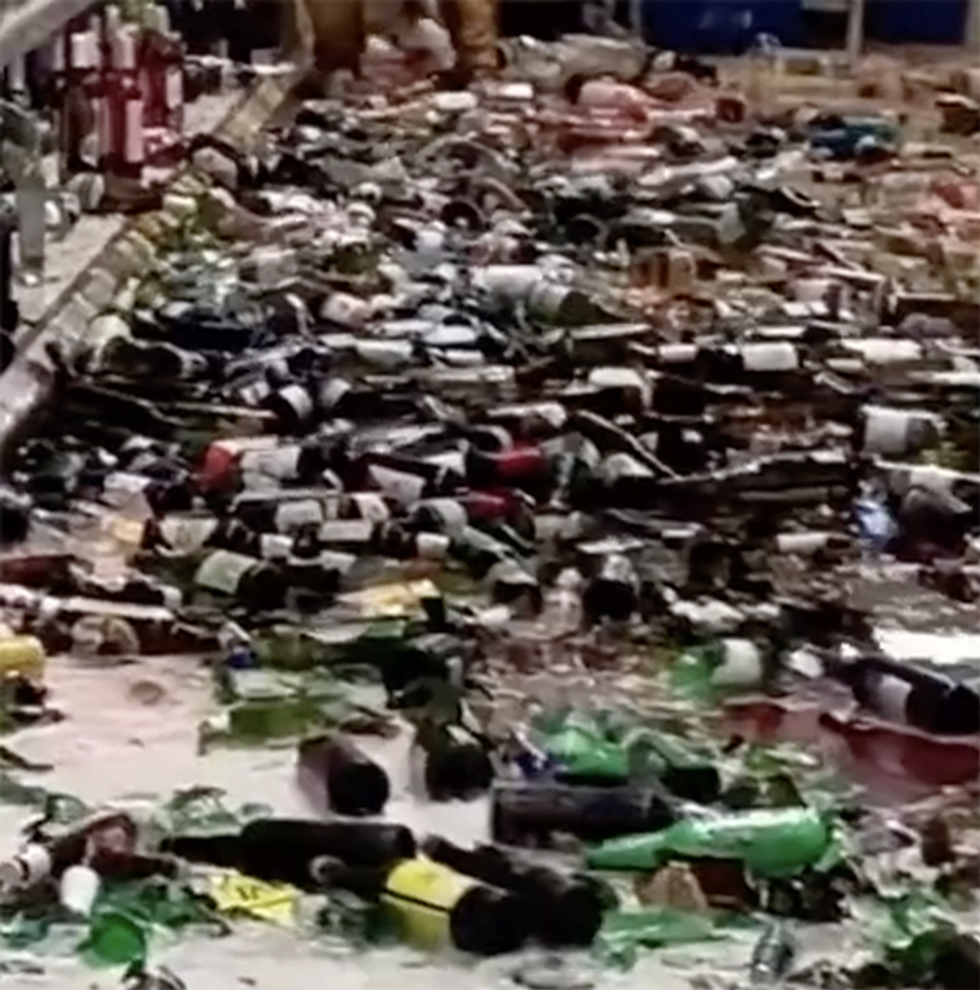 The only redeemable part of this video is seeing the perpetrator bleeding after falling ass-first on the shattered glass. Though instead of blood, it could be the Merlot. Another option is... let's just say it was a woman, she was obviously in a mood, and I'm not sure when during the month this incident took.
What I do know is this woman needs to be sent to Gitmo. Or whatever the England/New Zealand version of Gitmo is.
I don't care what your problem is. I don't care what the issue is. I don't care what reason you think you are saving the world with such a public outburst. Leave. Alcohol. Alone. Alcohol never did anything to you. Alcohol is our friend.
There's one glaring aspect of this video that stands out. How does this woman get away with smashing one bottle without being stopped? Let alone HUNDREDS OF BOTTLES of booze no longer on the wall? We need a full investigation.
Editor's Note:
It's official. MugClub. Is. Back.
Everyone here at the team is thrilled to inform you that MugClub relaunches on March 20, 2023. It is bigger, it is better, it is more affordable, it will include MORE content than ever AND it's powered by Rumble!
Did I mention that the annual price has been lowered from $99 to $89?