Each day we overwhelm your brains with the content you've come to love from the Louder with Crowder Dot Com website.
But Facebook is...you know, Facebook. Their algorithm hides our ranting and raving as best it can. The best way to stick it to Zuckerface?
Sign up for the LWC News Blast! Get your favorite right-wing commentary delivered directly to your inbox!
Five failed late-night hosts commit stochastic terrorism on your ears, join forces for new podcast
August 30, 2023
If the Hollywood writers' strike has accomplished anything, it's proving how irrelevant late-night shows have become outside of providing fodder for cheap content on the internet. Case in point: I bet you didn't even notice we haven't sh*t on late-night hosts in a while. Or that there haven't been late-night talk shows to sh*t on. Or that Hollywood is on strike. Good for you being too busy carrying on with your life!
We hope you enjoyed it while it lasted. The five tenors of douche -- Stephen Colbert, Jimmy Kimmel, Seth Meyers, John Oliver, and Jimmy Fallon -- have united for a podcast. Since the writers are on strike, they have no one to write their jokes. Which is odd, because the Democrat National Committee wrote most of them. They must be standing in solidarity.
Five white male leftists who all virtue signal over the same political opinion. Yay!
Even poor Jimmy Fallon knows how pathetic this is: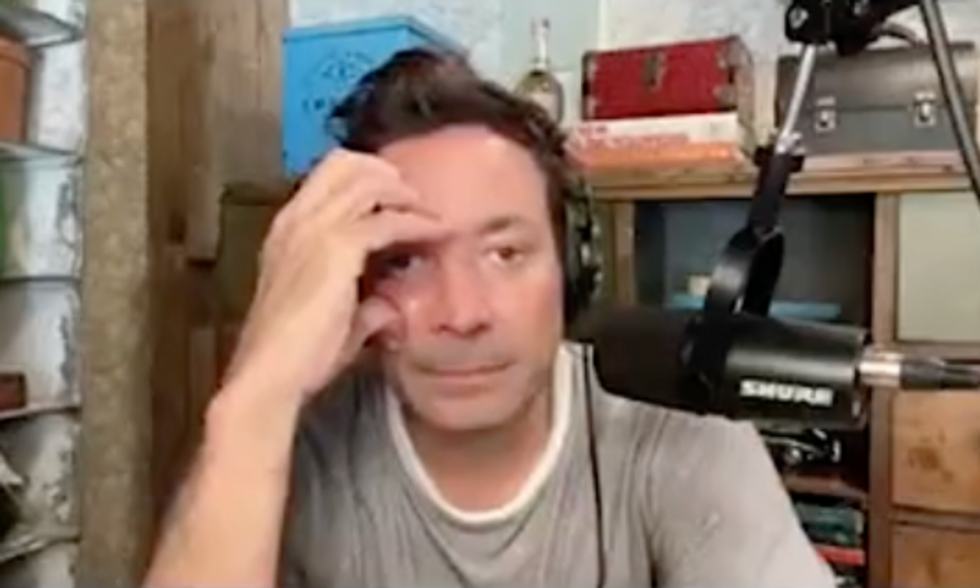 It's been a while. I'm sure many of you have forgotten how terrible these five people are WITH writers. Let's joggle the noggin'.
Jimmy Kimmel and Joe Biden Think You're a Big Dumb Idiot
Watch: John Oliver Supports Harassing Police for Being Anti-Mandate
Seth Meyers Plans Extended Episode to Cover Mueller Report
Stephen Colbert's 'The Vax-Scene' Dance is so Cringe, Your Soul May Actually Leave Your Body
Watch: 'Comic' Jimmy Fallon debuts COVID variants rap that manages to be worse than you're expecting
Now they are without writers, producers, makeup, catering, and the guy who tells the audience when to laugh. The funniest jokes are going to be all the times Kimmel and Fallon aren't sure which "Jimmy" they are. And even that joke is so bad I almost stood up and gonged myself.
So yes. For the progressive twat in your life who can't find lazy content about Ron DeSantis "banning" books and how smart and intelligent Joe Biden is... they now have this.
><><><><><><
Brodigan is Grand Poobah of this here website and when he isn't writing words about things enjoys day drinking, pro-wrestling, and country music. You can find him on the Twitter too.
Facebook doesn't want you reading this post or any others lately. Their algorithm hides our stories and shenanigans as best it can. The best way to stick it to Zuckerface? Sign up for our DAILY EMAIL BLASTS! They can't stop us from delivering our content straight to your inbox. Yet.