Each day we overwhelm your brains with the content you've come to love from the Louder with Crowder Dot Com website.
But Facebook is...you know, Facebook. Their algorithm hides our ranting and raving as best it can. The best way to stick it to Zuckerface?
Sign up for the LWC News Blast! Get your favorite right-wing commentary delivered directly to your inbox!
Education
Paper published about masturbating to underaged boys receives backlash, is only now being investigated
August 12, 2022
I don't know what's scholarly or enlightening about masturbating to pedophilic images, but I'm not a peer reviewer for Qualitative Research. And if I was, I still wouldn't see the value in such a "study," and it would never make it into the journal. But whoever did peer review a paper by University of Manchester graduate student Karl Andersson thought his diddling himself while looking at depictions of little boys thought it was groundbreaking enough to publish.
Of course, decent human beings with functioning moral compasses and even a halfway functioning prefrontal cortex understand that such things are, how would you say, untoward. You could also say it is repugnant, degenerate, and loathsome. You could say that, and some people obviously thought so because the journal received enough backlash to cause the journal to launch an investigation, reports The College Fix.
The essay, which is still available on the journal's website, is titled, "I am not alone – we are all alone: Using masturbation as an ethnographic method in research on shota subculture in Japan," and the abstract explains that "shota" is "a Japanese genre of self-published erotic comics that features young boy characters." So, the entire paper is about Andersson wacking off to cartoon drawings of little boys. It wasn't received well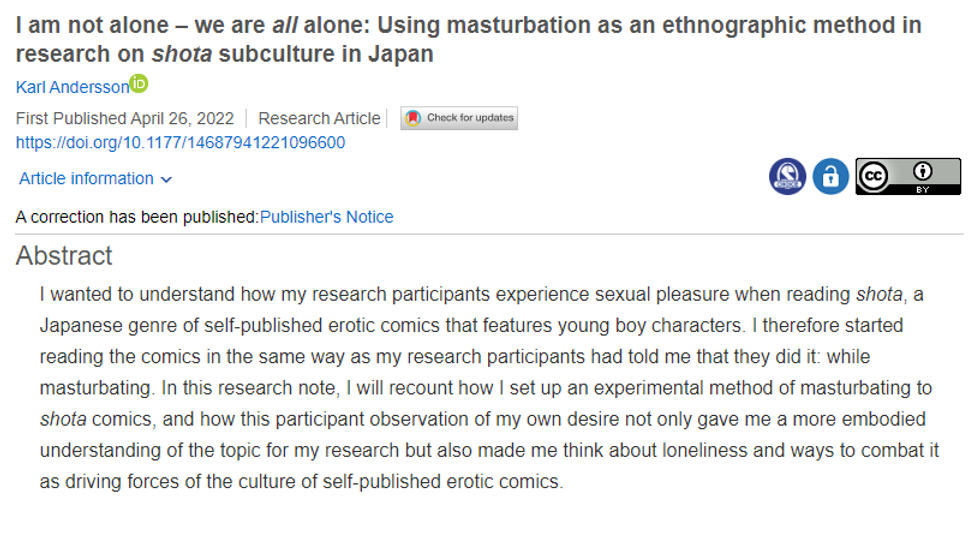 Michael Salter, Professor at the University of New Soth Wales, Australia: "This entire article describes the author masturbating to drawn child sexual abuse material. He describes his arousal to sexual scenes featuring 'very young boys'. How was this written, reviewed or published?"

The paper also received funding from the university to perform its "research," which means Andersson receive taxpayer funding to engage in his deviancy.
Neil O'Brien, a Member of Parliament, took to Twitter to ask, "Why should hard-working taxpayers in my constituency have to pay for an academic to write about his experiences masturbating to Japanese porn?"
Both of these are good questions, but the answer is far from difficult. It's because the Western systems of education are broken. The universities create and disseminate this kind of garbage, and the lower secondary and primary levels adopt them and put the ideas into practice to poison and indoctrinate the next generation. Taxpayer funding is interwoven throughout the system.
At least Andersson's conclusions were revelatory... "What I learned from this experiment was to attach greater meaning and value to the act of masturbation, and especially of doing it to two-dimensional material in the form of comics. [...] Thinking more critically about my own masturbation also made me wonder if all sex is masturbation, in the sense that people are focused on their own pleasure and use other people as 'masturbation material."
Uh huh...
College Fix also notes that this weirdo included a thanks to his Ph.D. supervisor, Sharon Kinsella, "for always encouraging [him] to go where [his] research [took him]."
Perhaps he could have used just a little less... encouragement...
The Louder with Crowder Dot Com Website is on Instagram now!Follow us at @lwcnewswire and tell a friend!
Meat Sea Matheson! Verified Academic! | Louder With Crowderwww.youtube.com