Twitter users hit Joe Biden with another brutal fact check over his misleading job creation numbers
December 05, 2022
The main reason the left and the media (but I repeat myself) are apocalyptic about Elon Musk owning Twitter is that they can no longer mislead Americans. In the olden days, if a Democrat was challenged on a talking point, it would get throttled or buried. Now that the playing field is being leveled, you have fact-checks placed on Joe Biden tweets. Or, not so much fact checks but... context addendums?
Either way, Biden's junk about creating more jobs than anyone ever is being called out as bullplop. Here's the current graphic he's attempting to share.
We're building an economy from the bottom up and the middle out by creating more jobs than any Administration in history at this point in a presidency. pic.twitter.com/BPGZapSKTM
— President Biden (@POTUS) December 2, 2022
Twitter users feel this is missing some necessary context. "The spike in jobs is more accurately attributed to the lifting of [SCHMOVID] restrictions at the state and local level. These are not 'new' jobs but instead jobs that are returning to the economy [SCHMOVID]."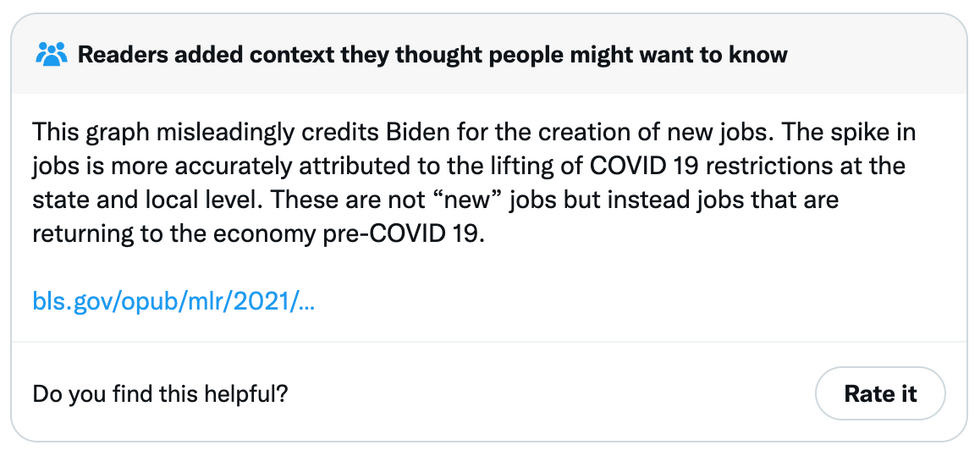 It's all about having fun with numbers. Is it true that since January 2021 there has been a net of +10.5 million jobs? Yes. It is ALSO true that if you start at January 2020, there has only been a net of +1.4 million jobs, when you factor in the jobs lost when the country shut down during the pandemic, that was then brought back when the country reopened.
You could also say that in the eight months before Biden, there was a net positive of +12 million jobs. That is 1.5 more million than after Biden.
There wasn't job growth based on any Biden policy. Unless you count the government telling people they are allowed to open again after forcing them to shut down as a "policy."
As of this writing, this misleading Biden graph is still up. The last time the White House got fact-checked so hard by Twitter, they deleted the tweet.
The White House is creating a metric that only applies to Joe Biden. Then using that metric to claim Joe Biden is history's greatest job creator. Context matters. It's why leftists are unhappy context can be shared on Twitter now.
Editor's Note
LwC is on Substack now! Each day we overwhelm your brains with the content you've come to love from the Louder with Crowder Dot Com website.. but algorithms hide our ranting and raving as best they can. The best way to stick it to Big Tech? Subscribe to For the Content!
Why Zoomers SHOULD CARE About Politics | Louder With Crowderyoutu.be