Each day we overwhelm your brains with the content you've come to love from the Louder with Crowder Dot Com website.
But Facebook is...you know, Facebook. Their algorithm hides our ranting and raving as best it can. The best way to stick it to Zuckerface?
Sign up for the LWC News Blast! Get your favorite right-wing commentary delivered directly to your inbox!
Warning: Joe Biden's alcohol CZAR wants to limit how much beer you should drink a week
August 25, 2023
VOTE IN THE LWC 2024 GOP STRAW POLL! CLICK HERE!
This is the worst thing to happen to beer since Dylan Mulvaney.
Joe Biden hasn't f*cked up America enough. Now he wants to f*ck up how you get f*cked up trying to forget how much he f*cked up. His alcohol czar -- yes, he has an alcohol czar - wants to change the recommendation for how much beer you should be allowed.
Let me be clear -- since the "independent" "fact" checkers get uppity when we have too much fun -- no one is calling on a ban of how much hooch you can drink (yet). But alcohol czar Dr. George Koob wants new "guidelines."
President Biden's alcohol czar, Dr. George Koob, told the Daily Mail that the USDA could revise its alcohol recommendations to match Canada's guidelines.
In January, the Great White North began urging residents to limit their alcohol consumption to two drinks per week.
I'm about to have more than my allotted weekly recommendation in a single glass of bourbon.
This is why we tell you "Pay attention, America." The bad ideas that start in Canada and Europe wind up the wet dreams of leftists in this country. We warned you about what Canada was doing in January. This patriot wasn't having it.
The Biden Administration isn't regulating you to only two drinks a week. It is only offering a "guidance." In a perfect world, we could just ignore the government's guidance as we've done for decades. Here's the rub with that.
The school mask mandates? Those were a "guidance." One that was enforced for political reasons, even though schools "didn't" have to follow them.
The people who demanded they be followed? They tend to come from the same ideology that wants to control how you feed your family or heat your house.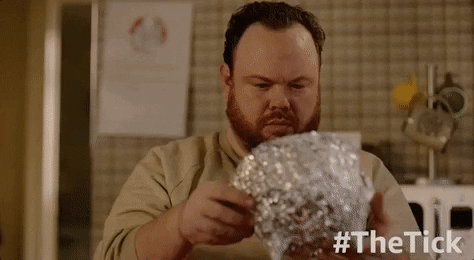 But, again, I can't stress this enough, NO ONE at the Louder with Crowder Dot Com website is saying that Joe Biden and the regime want to regulate your booze. We are ONLY pointing out that Biden's alcohol czar wants to offer a suggestion.
And also, Biden has an alcohol czar.
><><><><><><
Brodigan is Grand Poobah of this here website and when he isn't writing words about things enjoys day drinking, pro-wrestling, and country music. You can find him on the Twitter too.
Facebook doesn't want you reading this post or any others lately. Their algorithm hides our stories and shenanigans as best it can. The best way to stick it to Zuckerface? Sign up for our DAILY EMAIL BLASTS! They can't stop us from delivering our content straight to your inbox. Yet.