Each day we overwhelm your brains with the content you've come to love from the Louder with Crowder Dot Com website.
But Facebook is...you know, Facebook. Their algorithm hides our ranting and raving as best it can. The best way to stick it to Zuckerface?
Sign up for the LWC News Blast! Get your favorite right-wing commentary delivered directly to your inbox!
D'oh Biden
Reset the counter 'cause Joe Biden got creepy with a little girl again: "I love your ears"
November 20, 2023
On a day when news broke that the White House is looking for ways to wrap Joe Biden in bubble wrap so that he doesn't hurt himself when he falls, they need to find a way to prevent him from creepin' on little girls. At a Thanksgiving event for the troops, handlers took their eyes off the president long enough for him to -- allegedly, according to critics -- start flirting with a six-year-old in attendance.
While claiming that he thought she was seventeen years old, the age of consent in some states, the president exhibited an Oedipus complex by comparing the little girl to his mother. They both had the same name.

Looking on in horror was Biden's caregiver, Dr. Jill Biden Ed.D.. Jill -- who, if she isn't under investigation for elder abuse yet, it is the opinion of this website should be -- watched the events unfold, knowing the blogs were going to have a field day with it.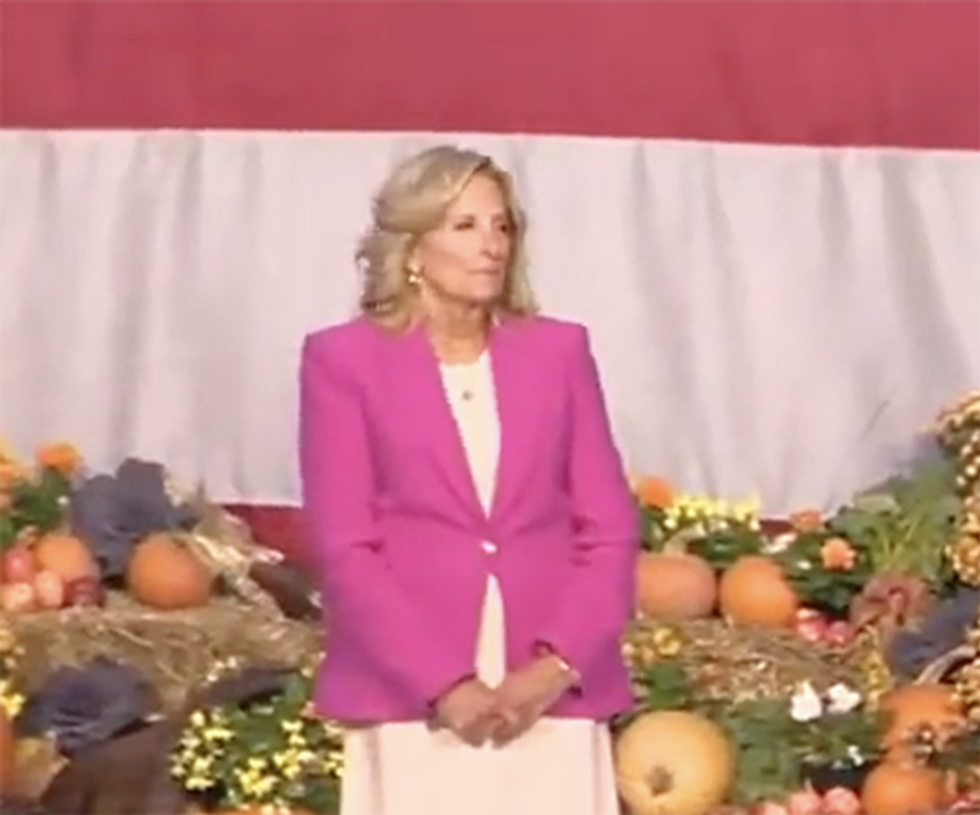 Handlers tried to take the president away, but not before Joe Biden expressed his disapproval they wouldn't let him watch a movie with the children. They were screening a tale of a grown man who lured little kids into his home with candy. Though more offensive is that they were screening the reboot and not the classic with Gene Wilder.
The White House was forced to reset its "days since" counter. It was last reset in July when Joe Biden was caught confusing a little girl for an ice cream cone.
Experts say this is a pattern of behavior from a man who critics say is the IRL walking embodiment of Herbert the Pervert from Family Guy. If Biden isn't groping little girls, he is making creepy comments about their pigtails and telling audiences how much he likes it when they dance for him.
It has gotten so bad that concerned mothers have started to take their daughters for self-defense training prior to meeting with the president.

The counter has been reset to zero. The White House is hoping to make it to the end of the year without another incident. But with the Christmas season coming up, known as the "Holiday season" by the administration, they know it'll be tough. Last year it took a coordinated effort the rush kids away from the president as he was toy shopping.
If you are a parent who is invited to an event of the White House, we here at the Louder with Crowder Dot Com website urge you to proceed with caution.
><><><><><><
Brodigan is Grand Poobah of this here website and when he isn't writing words about things enjoys day drinking, pro-wrestling, and country music. You can find him on the Twitter too.
Facebook doesn't want you reading this post or any others lately. Their algorithm hides our stories and shenanigans as best it can. The best way to stick it to Zuckerface? Sign up for our DAILY EMAIL BLASTS! They can't stop us from delivering our content straight to your inbox. Yet.