Idris Elba goes off on the divisive, woke obsession with skin color: "I don't want to be the first black"
February 11, 2023
Happy Black History Month! Or as actor Idris Elba calls it... history month. Elba believes you people are too obsessed with skin color and wishes everyone would stop. Ironic, because this is the same Idria Elba that the BBC's Diversity Chief once said wasn't black enough to be authentic.
The actor sat down with Esquire UK and lamented how we're all too focused on people's differences. It's an obsession Elba says hinders people's aspirations and growth. It's why he stopped describing himself as a "black actor." Elba was essentially marginalizing HIMSELF and putting himself in a box.
"I didn't become an actor because I didn't see black people doing it and I wanted to change that. I did it because I thought that's a great profession and I could do a good job at it. As you get up the ladder, you get asked what it's like to be the first black to do this or that. Well, it's the same as it would be if I were white. It's the first time for me. I don't want to be the first black. I'm the first Idris."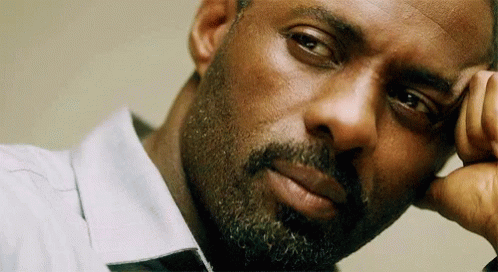 I recognize this is easy for me to say as someone who looks less Hershey's chocolate than he does Hellmann's mayonnaise. I don't know the struggle of walking down the street and having strangers assume I can dunk a basketball, play bass guitar, and know the proper amount of seasoning to put in food. But it would drive me insane if I took my craft seriously, spent my entire life perfecting it, and work my ass off on a piece of art I'm proud of. Only to have the primary concern of others be "so, what's it like to do all those things with your skin color."
It also tends to be woke-ass white reporters who are the most obsessed. Todd Bowles, head coach to the Tampa Bay Buccaneers, had to explain to two woke journalismers how in 2023 it's not all that noteworthy to be coaching against another black guy. And how the minute reporters stop making a big deal out of it, everybody else will as well.
Whether Idris Elba goes on to become either the first black James Bond or the next James Bond, as has been rumored for years, is still anybody's guess. Whatever his next role is, Idris is just going to do Idris.
Editor's Note
LwC is on Substack now! Each day we overwhelm your brains with the content you've come to love from the Louder with Crowder Dot Com website.. but algorithms hide our ranting and raving as best they can. The best way to stick it to Big Tech? Subscribe to For the Content!
Crowder's World Cup HOT Take! | Louder With Crowderyoutu.be