Each day we overwhelm your brains with the content you've come to love from the Louder with Crowder Dot Com website.
But Facebook is...you know, Facebook. Their algorithm hides our ranting and raving as best it can. The best way to stick it to Zuckerface?
Sign up for the LWC News Blast! Get your favorite right-wing commentary delivered directly to your inbox!
Culture
Study: Data shows US has highest rate of children in single-parent homes
September 04, 2022
The United States of America is in a sad state these days thanks in large part to the radical leftists who presently control the entirety of the federal government. Aside from the Supreme Court every now and then. Crime is up. A mental health crisis is sweeping through the country, and suicide is claiming the lives of too many--one is too many. As a people, we should be looking for the root causes of these and other symptoms of societal decay.
According to a study released by the Pew Research Center in 2019, out of 130 countries and territories surveyed, "the U.S. has the world's highest rate of children living in single-parent households."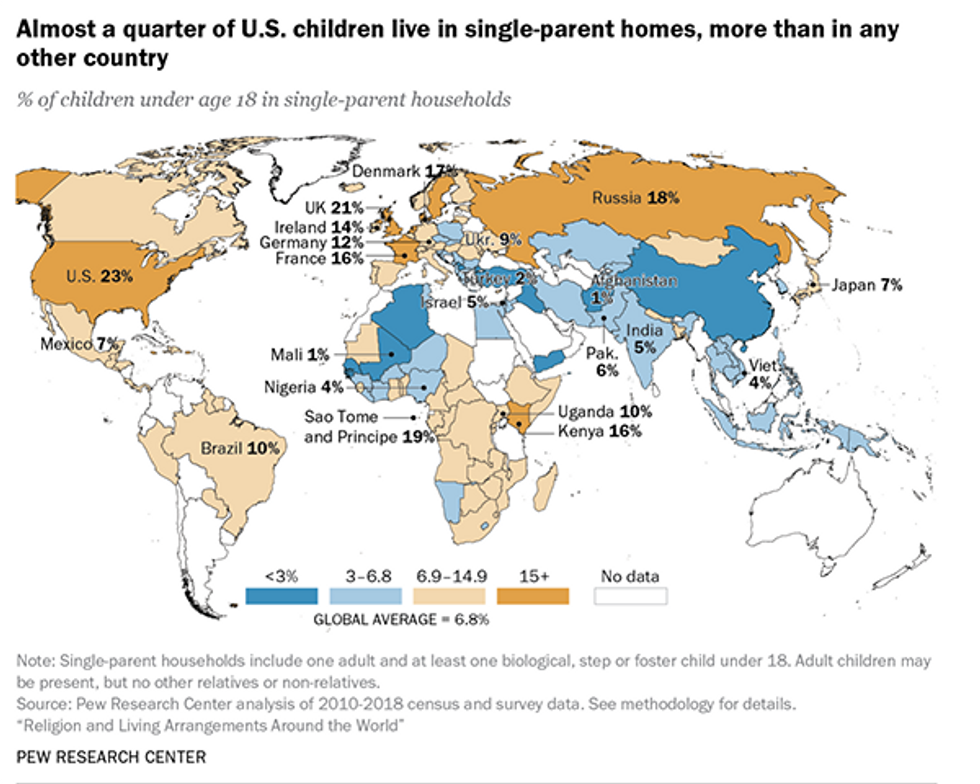 "Almost a quarter of U.S. children under the age of 18 live with one parent and no other adults (23%), more than three times the share of children around the world who do so (7%). [...] In comparison, 3% of children in China, 4% of children in Nigeria and 5% of children in India live in single-parent households. In neighboring Canada, the share is 15%."
Granted, China only just stopped murdering a bunch of their babies, but they have a fraction of single-parent households. Nigeria? India? These are third-world nations, and yet, they can manage to keep families together better than the United States.
Does anyone really believe children growing up in broken homes, more often than not without a father, is doing anything to help our current situation? Perhaps our energy would be better spent attempting to solve this problem before taking on all the leftist pet projects that threaten to bankrupt us into oblivion.
This study is somewhat old, but I can almost guarantee the problem has only become
The Louder with Crowder Dot Com Website is on Instagram now!Follow us at @lwcnewswire and tell a friend!
The Welfare State Caused Black Poverty, Not Slavery (Change My Mind Clip) | Louder With Crowderwww.youtube.com