Each day we overwhelm your brains with the content you've come to love from the Louder with Crowder Dot Com website.
But Facebook is...you know, Facebook. Their algorithm hides our ranting and raving as best it can. The best way to stick it to Zuckerface?
Sign up for the LWC News Blast! Get your favorite right-wing commentary delivered directly to your inbox!
Culture
Gwen Stefani has Two Words for Overly Political Celebrity Virtue Signalling: Don't Speak
May 28, 2021
If you bet on Gwen Stefani being so level-headed when it comes to political and social issues, come collect your winnings. You probably caught Gamestop on the way up too. Not that I thought of Gwen being political before this. I honestly don't think of her much other than always enjoying when "Running" comes up on Spotify. But it's so rare when a celebrity says something that doesn't make you stabby. Those moments should always be shared for posterity's sake.
Most of the news from her PaperMag interview surrounds her views on cancel culture. Her comments about a culture demanding famous people always validate their political worldview were more interesting.
The whole point of voting, is you have this personal space to feel how you feel. I use my platform to share my life story and to engage with people and to exchange whatever gift I was giving. I'm not a political science major. I am not that person. Everyone knows that. So why would I even talk about it?
Sadly, not many other celebrities have Stefani's self-awareness. It's why we get so many cringey videos where celebrities sing about communism and try to unseat a democratically elected president. Or, get conned into virtue-signaling over whatever the social issue du joir is that week. Another thing Stefani has no patience for.

I don't need to go on Instagram and say 'girl power.' I just need to live and be a good person and leave a trail of greatness behind me. Stop talking about it and stop trying to bully everybody about it. Just do it. And that's how I feel like I've lived my life.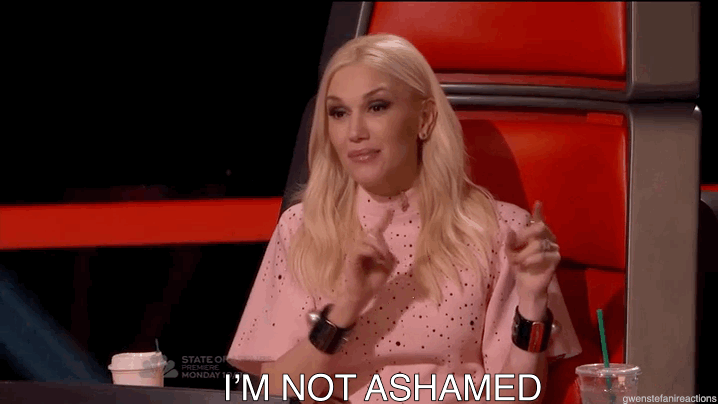 Also, apparently, there is a segment of America who thinks she's a Republican because she's married to Blake Shelton. There's also a segment of America who thinks any celebrity not actively saying they aren't Republican is a republican by default. Draw a circle and call it a Venn DIagram. Which, a) Stefani is not a Republican, b) managed to say she's not without coming right out and saying it, and most importantly, c) meh. If you're a celebrity I assume we disagree politically as my default position. It's only an issue if you're an insufferable douche about it, or if you sound like you hate the half of the country you disagree with. Gwen doesn't fall into either of those categories.

Gwen's comments were a refreshing change of pace from the drivel we usually get from celebrities. It also makes me miss my friend's No Doubt cover band. Those were fun times.
Looking for a fashionable way to support Louder with Crowder? Get your swag at Crowdershop today!