Gay Imam Admits Islam is Dangerous... So He's Opening His Own Mosque?
January 10, 2018
Muslims loves gays. When it comes to tossing people off rooftops, gays are their first choice. Other favorite Islamic LGBT activities include: public executions, brutal beatings, and anti-gay death squads.
As you can imagine, things weren't exactly rainbows and glitter for Australia's first openly gay imam. You can learn a little about him in the video below, which is from last year.
His plan? To open a mosque of his own. This story is from today.
Australia's only openly gay Imam is pushing for the country's first LGBTI-friendly mosque that would also act as a safe house and counselling centre. Nur Warsame said he is dealing with an "avalanche of misery" among LGBTI Muslims who have no support services or safe spaces.

Imam Nur is a devout Muslim who once led one of Melbourne's largest mosques. When he came out as gay in 2010 the Muslim clergy severed ties with him, despite his rare credentials as a hafiz — someone who has memorised the Koran.
Memorizing the Quran means jack sh!t if you're willing to slide your sausage into another dude.
"You are talking about an ideology that believes your repentance is to be killed as a gay person," he said. He said he gets daily calls for help from young Muslims struggling with fierce and, at times, violent resistance from their family and community.
Ergo the Imam has struggled to find his own Muslim Safe Space for Queer as F*ck We Must Run for our Lives. That's the rumored mosque's name. Rumored.
Nur says it himself: Islamic belief decrees death for all homos (see Orlando Imam on Gays: 'Death is the Sentence...'). Rounding up all the community's gays and putting them in one bombable building seems a rather bad idea. Somehow methinks other Muslims won't take too well to seeing rainbow flags hung next to the crescent moon. Allahu Akbar, loose-wristed bitches!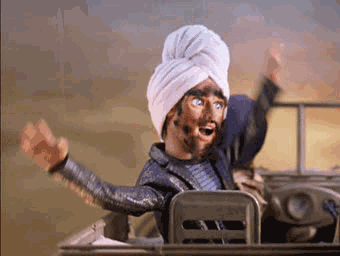 It's Mohammad and little Aisha, not Mohammad and Osama. Pedophilia? A-Ok. Gayness? DEATH IS THE SENTENCE!
So what we have here is a devout Muslim acknowledging his other devout Muslims want to skewer him. Then toss his flamboyant tushy off the nearest building. Peace be upon him.
This man seems to think Islam and gays can coexist as well as the bumpersticker on a Prius parked at a Whole Foods. Good luck with that. History, the Quran, and Muslims themselves all beg to differ.
Speaking of which:
NOT SUBSCRIBED TO THE PODCAST? FIX THAT! IT'S COMPLETELY FREE ON BOTH ITUNES HERE AND SOUNDCLOUD HERE.