Each day we overwhelm your brains with the content you've come to love from the Louder with Crowder Dot Com website.
But Facebook is...you know, Facebook. Their algorithm hides our ranting and raving as best it can. The best way to stick it to Zuckerface?
Sign up for the LWC News Blast! Get your favorite right-wing commentary delivered directly to your inbox!
Articles
FCTRY Introduced Alexandria Ocasio-Cortez Action Figure
October 15, 2019
If you also thought the Ruth Bader Ginsburg action figure needed a plastic buddy, well you're in luck. There's now an Alexandria Ocasio-Cortez action figure. That's right, now you can bring the bug-eyed socialist Barbie home, as a Barbie-variant. She comes equipped with big eyes, red lips, a white pantsuit, and a sense of entitlement rivaled only by your toddler demanding you look at them for every single minor accomplishment they make. Who says dreams don't come true.
The figure, which disappointingly doesn't have a pull string like Woody, is made by FCTRY, a leftist outlet which thinks we don't see our political heroes enough, now we need them in our offtime playtime, to join Ken and Malibu Barbie for a guilt trip. To really make the set complete, we obviously need another member of the Squad, Ilhan Omar and her brother/husband living in sin.
The AOC stocking stuffer we all need is in its initial stages of a Kickstarter campaign. With a video I couldn't embed but you need to see. Here's a screen capture of that video, so you can witness the countenance of this marvelous plastic monument to democratic socialism: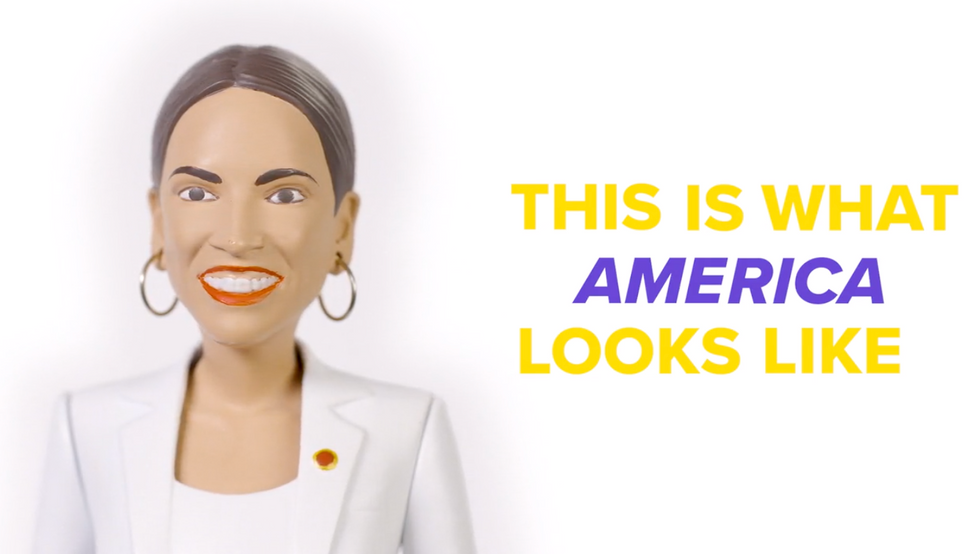 From The Hill:
If the campaign launching Tuesday is successful, the scaled-down AOC will stand six inches tall and about an inch wide. Ocasio-Cortez's smiling, pint-sized doppelgänger sports a white suit similar to the one the House freshman wore to her swearing-in ceremony in January. She's also seen with her "signature red lip," gold hoop earrings and pulled-back hair.

"AOC's bendable arms are ready to knock down the house," FCTRY tells ITK.
Really, I'm disappointed she isn't like Woody or Buzz with some preprogrammed phrases she could recite when someone pulls her yap trap. Some ideas for the next product iteration:
WE ONLY HAVE TWELVE YEARS!
GET OUT AMAZON!
NO MORE COW FARTS!
and a bonus, if you put the AOC figure in an empty parking lot, she cries.
Tweet me your ideas, because real news is lame and this is more fun.
Here's another reason to go snatch up this doll faster than you can say "Like the climate and stuff!" The company who makes these dolls to crowd out our Christmas wishlists donates some of their profits to the ACLU. So when you add AOC to your children's Barbie collection so plastic AOC can shame Barbie for using her pink convertible instead of a bus, know your dollars are funding the legal a-holes who scoff at your right to free speech and/or your religion.
That's what we in the industry call a "double-whammy."
I know what I'm asking from Santa this year!
NOT SUBSCRIBED TO THE PODCAST? FIX THAT! IT'S COMPLETELY FREE ON BOTH ITUNES HERE AND SOUNDCLOUD HERE.