Each day we overwhelm your brains with the content you've come to love from the Louder with Crowder Dot Com website.
But Facebook is...you know, Facebook. Their algorithm hides our ranting and raving as best it can. The best way to stick it to Zuckerface?
Sign up for the LWC News Blast! Get your favorite right-wing commentary delivered directly to your inbox!
Politics
Watch: Congress attempted a hearing on college antisemitism, Hamas supporters had other ideas
November 08, 2023
You may have noticed, if you have been on the internet much since October 7th, that antisemitism has been running rampant on college campuses. Across all of America, really. But it's worse on college campuses. Congress attempted to hold a hearing on Wednesday to discuss why that is. Before the first witness got to speak, it was interrupted by pro-Hamas protestors.
It's become increasingly clear the mistake the January 6th protesters made was an organized rally. They should have just snuck into a hearing because it's apparently easy to do. Though in fairness, it's Washington DC, and it's our government. There is causing a disruption, and then there is causing a (D)isruption.
Seriously, look at this photo. The only people NOT pro-Hamas protestors are the hearing witnesses.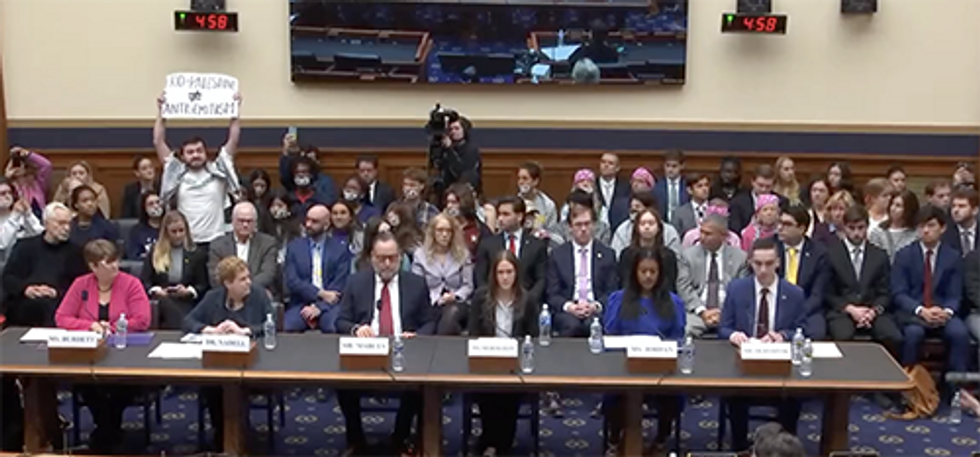 At least Chairman Jordan was amused.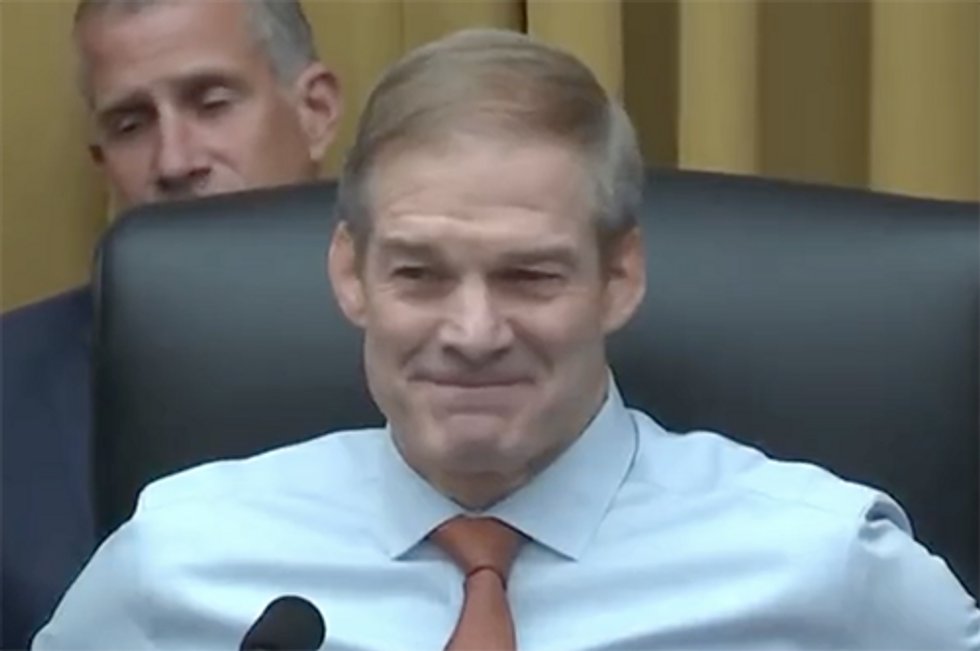 They hit all the usual hits like "Free Palestine" and "Ceasefire!" Ignoring the fact that there was already a ceasefire on October 6th of this year, you see how that worked out for the peace process.
They also were upset over alleged attempts to try and silence Rashida Tlaib, who just yesterday was censured in a bipartisan fashion over her pro-Hamas propaganda and her support for the elimination of Israel. I'm confused over who they think is "silencing" Tlaib. She refuses to shut up. That's why she got censured by her peers.
Shout to Rep. Matt Gaetz, who has his staff trained in the art of remembering to do it for the content. Someone from his team was there to get the close-ups of these rabble-rousers. Remember, instead of "insu(R)rectionists," these were "(D)isruptors."
Just so we're clear as to the reason FOR the hearing, here are a few examples:
Jewish students get barricaded in school library by pro-Hamas protestors, yet the behind-the-scenes details are WORSE
Jewish Students Attacked At School, Forced To Sign Gag Order So They Don't Discuss It
CEOs are lining up to deny pro-Hamas Harvard graduates from getting jobs in the future. Good.
NYC GOP Councilwoman shows up at anti-Israel rally with a gun for protection, and the protestors can't understand why

><><><><><><
Brodigan is Grand Poobah of this here website and when he isn't writing words about things enjoys day drinking, pro-wrestling, and country music. You can find him on the Twitter too.
Facebook doesn't want you reading this post or any others lately. Their algorithm hides our stories and shenanigans as best it can. The best way to stick it to Zuckerface? Sign up for our DAILY EMAIL BLASTS! They can't stop us from delivering our content straight to your inbox. Yet.