Each day we overwhelm your brains with the content you've come to love from the Louder with Crowder Dot Com website.
But Facebook is...you know, Facebook. Their algorithm hides our ranting and raving as best it can. The best way to stick it to Zuckerface?
Sign up for the LWC News Blast! Get your favorite right-wing commentary delivered directly to your inbox!
Politics
Rashida Tlaib goes bananas accusing Joe Biden of genocide in video calling for the elimination of Israel
November 04, 2023
Democrat Hamas Caucus chairwoman Rashida Tlaib paraglided into the national debate AND the 2024 election on Friday. In a video sharing footage of pro-Hamas rallies throughout America, she accused sitting President Joe Biden of supporting genocide by saying America supports Israel. And that THEY -- I'm assuming Tlaib means other American Hamas supporters who traditionally vote Democrat -- will not forget in 2024.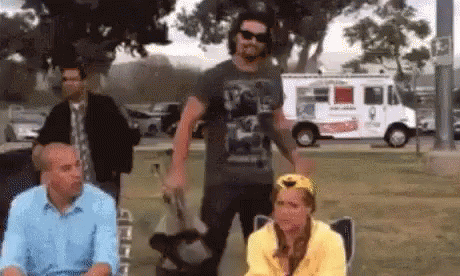 Biden had expressed his support after the October 7th terror attack, where 1400 Israelis were slaughtered, women were raped, families were burned alive, and infants were beheaded. At first. Then, as Norm MacDonald taught us about terror attacks, what really matters is the backlash against peaceful Muslims. Joe Biden's White House went out of its way to ignore the antisemitic attacks taking place all throughout America to focus all its energy on combating alleged "Islamophobia."
Not enough bending over for Tlaib. She released this video threatening Biden anyway.
The majority of the American people are not with Joe Biden on the economy, the border crisis, and allowing boys to dominate girls' sports. When it comes to Israel vs. Hamas, Biden is not the wrong one (depending on the day of the week).
Of note is Tlaib selecting a clip of pro-Hamas supporters chanting, "From the river to the sea, Palestine will be free." Critics will say that is a call for the elimination of Israel. Critics, and anyone with half a brain. Because it's a call for the elimination of Israel.
Tlaib attempted to clarify by going the "'Defund the Police' doesn't really mean defunding the police" route, claiming "from the river to the sea" is an aspirational call for freedom while leaving off the eliminating Israel part of it. She thinks you're stupid. Or, she is expecting the media and the "independent" "fact" checkers to cape for her.
It will be interesting to see which way they go. The "independent" "fact" checkers tend to circle the wagons around President Biden. Though, they are also committed to protecting the radical Left's progressive agenda. Which, at this point, is just the moderate Democrat party's agenda. They could throw Biden under the bus on this one. These are the same people who claim ripping down posters of kidnapped children is a "counter-protest."

What Tlaib has in stanning terrorism, she lacks in irony.
Joe Biden will be hanging out on the beach all weekend, ignoring reporters yelling at him about this. If I were to guess, Karine Jean-Pierre is looking for people to cough in her face she she can bang out sick on Monday.
><><><><><><
Brodigan is Grand Poobah of this here website and when he isn't writing words about things enjoys day drinking, pro-wrestling, and country music. You can find him on the Twitter too.
Facebook doesn't want you reading this post or any others lately. Their algorithm hides our stories and shenanigans as best it can. The best way to stick it to Zuckerface? Sign up for our DAILY EMAIL BLASTS! They can't stop us from delivering our content straight to your inbox. Yet.