Each day we overwhelm your brains with the content you've come to love from the Louder with Crowder Dot Com website.
But Facebook is...you know, Facebook. Their algorithm hides our ranting and raving as best it can. The best way to stick it to Zuckerface?
Sign up for the LWC News Blast! Get your favorite right-wing commentary delivered directly to your inbox!
Culture
Oh Good, Bill Cosby Has an Opinion About the Capitol Riots He Wants to Share
January 07, 2021
There was a riot at the U.S. Capitol on Wednesday. Many Americans sat home shocked at the images they were seeing. Not knowing what else they can do, they took to Twitter to express how angry and outraged they were. Granted, the people rioting were too preoccupied to read your tweets telling them to go home. But hey, it made you feel like you were helping! Politicians tweeted. Joe Sixpacks and Suzie Homemakers tweeted. Celebrities of course wanted to signal their virtue. Even inmates from a Pennsylvania correctional facility wanted to opine. Former comedian and current rapist Bill Cosby.
Of all the people we needed to hear from ... dafuq?
Today, I was informed about the shameful assault that was waged on our democracy, the Capitol, and all of those great leaders (U.S. Representatives & Senators) who were elected by "We The People." https://t.co/UN1YIsefBw
— Bill Cosby (@BillCosby) January 7, 2021
He opines further on Instagram:
Therefore, I, Bill Cosby, will recite the words of a great man, who stood strong during the Rodney King riots and said, "go home peacefully and find an episode of The Cosby Show to watch," Mayor Tom Bradley, Los Angeles."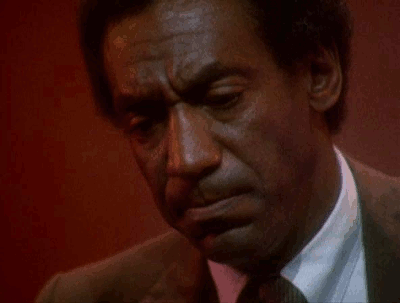 Maybe it's senility. Maybe it's boredom. Maybe he had five minutes to kill in between his current colleagues looking to put their pop in his pudding. But I do wonder about the delusions where Bill Cosby feels the people need to hear from him right now. Worse, that his words are in any way going to help matters. There is not a single person peacefully protesting in Washington, D.C., who is looking at their Twitter and thinking, "I messed up. Dr. Huxtable is mad at me." Also, I'm confused how people are supposed to watch The Cosby Show when there is no longer a The Cosby Show to watch. The show currently sits on a shelf next to Chris Benoit matches. You know, because of Cosby and all the raping.
We as Americans have many questions we need to ask ourselves. People across all divides need to find a way to come together. And if there's one thing to find common ground on, just to get the healing started, it's this: No one cares what Bill Cosby thinks about it.
Get your content free from Big Tech's filter. Bookmark this website and sign up for our newsletter!
The Best 'Louder With Crowder' Intros!youtu.be