Each day we overwhelm your brains with the content you've come to love from the Louder with Crowder Dot Com website.
But Facebook is...you know, Facebook. Their algorithm hides our ranting and raving as best it can. The best way to stick it to Zuckerface?
Sign up for the LWC News Blast! Get your favorite right-wing commentary delivered directly to your inbox!
cringe
Anthony Fauci Chills with Olivia Rodrigo, Reads Tweets from His Adoring Fans in Cringiest Video of All Time
July 22, 2021
You would think Anthony Fauci getting slapped around by Rand Paul (again) would be the most embarrassing Fauci video available this week. I regret to inform you it is not. The White House — the American White House where the leader of the free world lives — produced a video of Anthony Fauci reading tweets from his adoring fans. Kinda like Jimmy Kimmel's "mean tweets." Only instead of celebrities reading what haters have to say, we have a different kind of media whore reading people blowing smoke up his keister. Presumably, to encourage more people to get their shots.
He's with Olivia Rodrigo. She's really popular on TikTok. I think. I don't care if I'm wrong.
Olivia Rodrigo and Dr. Fauci Read (Vaccine) Fan Tweetsyoutu.be
If you haven't gouged your eyes out with a pointy stick yet, please note how the White House tagged the video: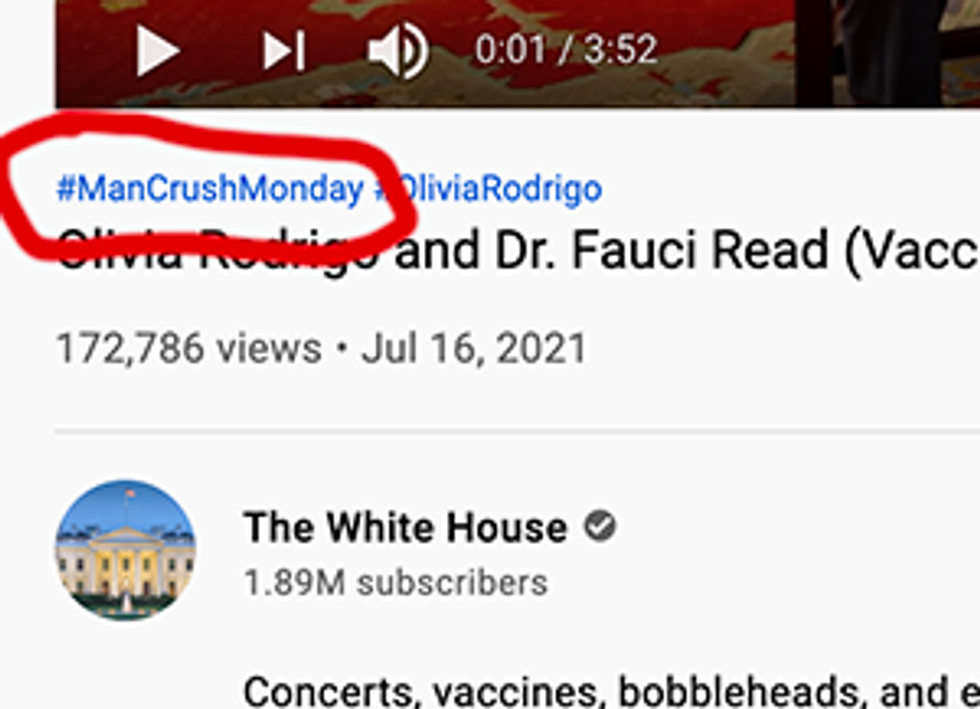 A grown adult, employed by our tax dollars, working for the president of the United States, tagged a video on the WHITE HOUSE YouTube page as "#ManCrushMonday."
I can't imagine being a serious person who thinks serious things about serious viruses and thinks reading something like this out loud is going to encourage people to get their Fauci ouchie.
Happy man crush Monday to this hero. Thank you, Dr. Fauci for all the hard work you do. We appreciate your intelligence, honest, bravery, and compassion. We love you
The White House didn't reveal who tweeted these tweets. Probably for the same reason they disabled comments on the YouTube video. But I have ten bucks that say it came from someone with a CNN prime-time show. I keep flipping back and forth between Jim Acosta and Brian Stelter. Probably Stelter. If it were Acosta, he would have talked about himself.
ppl made fun of those Dr. Fauci prayer candles but we got my dad one for his birthday.
People are still making fun of you. Though not as much as the person making bank selling idiots like you Fauci prayer candles. Between those, the Stacey Abrams prayer candles, and the taxpayer dollars the candlestick maker is being paid to stay home, they're most likely moving into a McMansion.
Joe Biden and his White House think not enough of you are getting shots. The face of getting shots this entire time has been Pope Tony. Even as Pope Tony jumps in front of any camera he can find to lecture Americans to get shots, people are still hesitant. A person with half a functioning frontal lobe might draw a connection that maybe, just maybe, Americans aren't as enamored with Fauci as your average leftist assclown.
Instead, the plan is MORE Fauci. A guy who is already in love with himself reading people's insane fantasies about him.
Seriously. I'm usually anti-cancel culture, but whoever thought this was a good idea needs to be blacklisted from any job that requires so much as working on a computer.
Get your content free from Big Tech's filter. Bookmark this website and sign up for our newsletter!
SUPERCUT: Fauci's INSANE Flip-Flops! | Louder With Crowderyoutu.be