Each day we overwhelm your brains with the content you've come to love from the Louder with Crowder Dot Com website.
But Facebook is...you know, Facebook. Their algorithm hides our ranting and raving as best it can. The best way to stick it to Zuckerface?
Sign up for the LWC News Blast! Get your favorite right-wing commentary delivered directly to your inbox!
Big Tech
YouTube STRIKES Crowder's Biden Stream. But the Claim was Fraudulent!?
September 18, 2020
Thursday night, the Louder with Crowder studio live streamed Joe Biden's town hall, hosted by CNN. Home of Stelter, Cuomo, Lemon and fact-checking bananas to apples. All was fine, not a hair on a child's head had been sniffed, when "Warner Brothers" issued a strike on the stream. Bear in mind that on Tuesday, the Louder with Crowder studio live streamed Donald Trump's town hall without a hitch. Trump's town hall was hosted by none other than ABC Disney, the same company which gave us all kinds of grief for streaming the Oscars. Okay? Okay. The minute YouTube issued a hard strike, Half-Asian Bill contacted YouTube to find out what was going on, since the stream was obviously transformative and the studio was clearly playing by the copyright rules. We learned, too late, there's a bad actor screwing around with nary a consequence from YouTube.
YouTube STRIKES Biden Stream, Crowder Fires Back! | Louder with Crowderyoutu.be
For those who don't know, if the channel receives three hard strikes, we're out. We take strikes seriously. But this strike, from the looks of it, is completely invalid. That's a polite way of saying it's bullshit. Yet our stream was still removed from the largest free online streaming "platform" in the world.
Here's what happened. Someone purporting to represent Warner Brothers issued a copyright claim which triggered YouTube to remove the stream. Innocent until proven guilty? Please. In the online world, such fairness is but a pipe dream.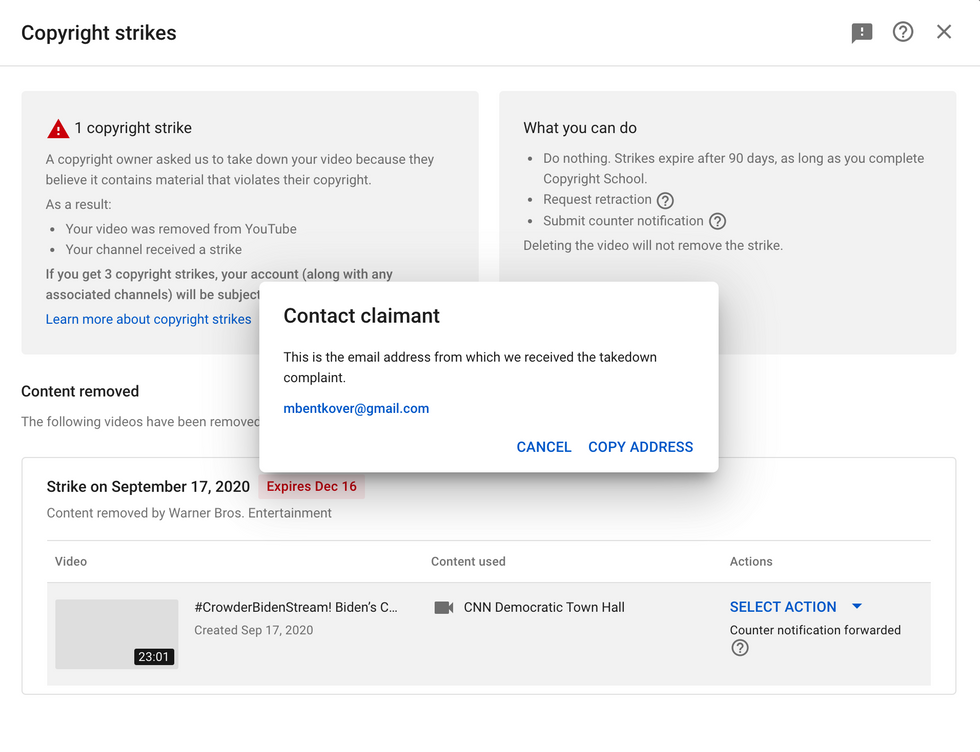 What we found out with simple searches is this "mbentkover" character has violated federal law (making false copyright claims) since 2018. Oh yes, we have evidence. Meaning YouTube either:
Allows this bad actor to continue issuing false strikes against channels, thus putting those entire channels at risk.
As the biggest tech company in the world, YouTube lacks the ability to stop a random fraud with a Gmail account from successfully abusing the system against the biggest conservative channel their platform has ever seen. And other smaller channels to boot.
Either way, not a good look for YouTube.
For example, on this Google Support page, we have this, which looks like another instance of "mbentkover@gmail.com" making a false claim on a YouTube channel.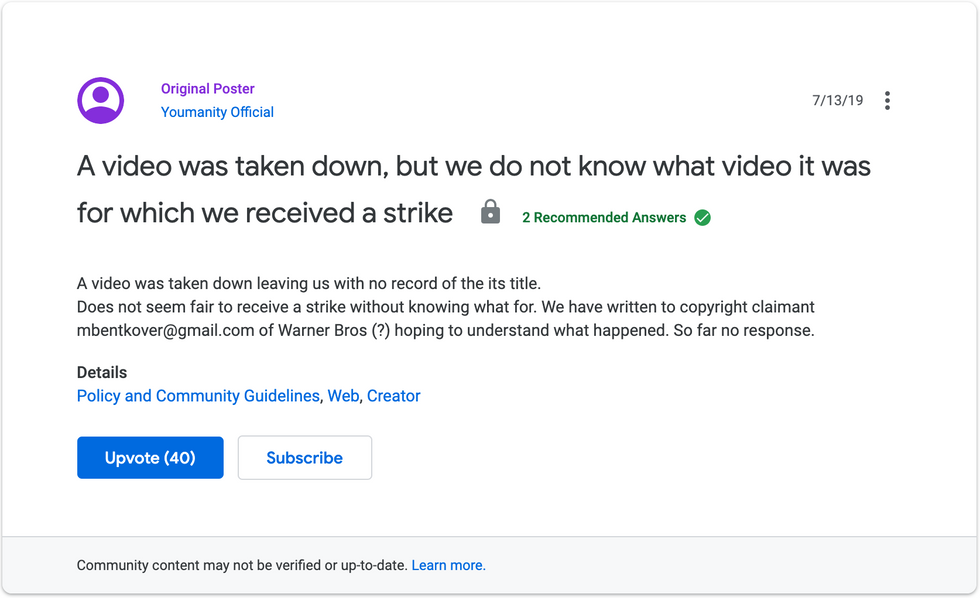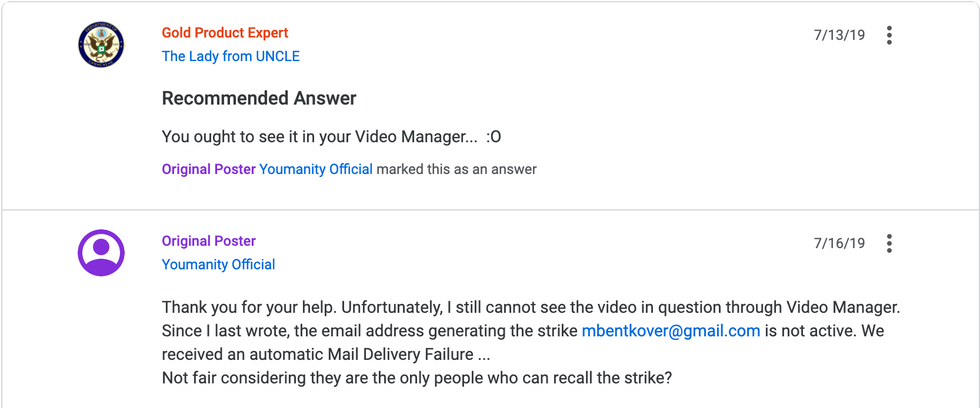 Oh but that's just one other example, you say? Here's more evidence this fraud has gotten away with these false strikes before, and yet YouTube allows the account to continue making copyright claims?

A tweet from April of 2018, complaining of the same account "mbentkover@gmail.com" seems to show this troll has been at it for two years.
As of the writing of this post, I've asked both of the twitter accounts above for their experience dealing with this fraud and YouTube's response:
I'm including my tweet just for the record.
But let's get back to what happened last night. After the stream wrapped, Google/YouTube responded to Bill Richmond with the following message:
We've followed up with Bill directly as well, but for the group's awareness, we're processing the DMCA counter-notification that Bill submitted (details on how we process counter-notifications here), and you can live stream again.
So it was a false claim.
But the damage had already been done. The stream was taken down from YouTube. Triggered by a fraud. A fraud who's been at this for two years.
Where's the justice for creators here? How many other channels, which don't have the legal resources Louder with Crowder does, deal with false copyright claims and strikes which might result in the loss of their channels? If this is how YouTube responds to claims, if this is how strikes are issued, how can YouTube claim to be a platform?
YouTube has a lot of questions it needs to answer, and you can bet we'll be pursuing legal justice anyway we can. Read between that line what you will.
If you're not yet a member of BlazeTV, join up. You've seen how YouTube behaves. This isn't the first time the "platform" has toyed with us. "Toyed" is a nice way of saying f*cked.
We want to keep our connection with you, the audience, for as long as we can. But from the looks of it, maybe YouTube doesn't share that interest. That's why BlazeTV matters. Use promo code CrowderBidenStream for $20 off. Your membership isn't just showing support of free speech, it's also a simultaneous middle finger to the Big Tech overlords pulling strings in efforts to control what you see and what you don't see. To put it delicately.
We will update you on this latest YouTube saga, as always, as it develops. Half-Asian Bill is about to have some fun.
Not subscribed to the podcast?Fix that! It's completely free.