Each day we overwhelm your brains with the content you've come to love from the Louder with Crowder Dot Com website.
But Facebook is...you know, Facebook. Their algorithm hides our ranting and raving as best it can. The best way to stick it to Zuckerface?
Sign up for the LWC News Blast! Get your favorite right-wing commentary delivered directly to your inbox!
WATCH: Seth Meyers Tries Cornering Meghan McCain Over Omar Comments. She Has None of It.
May 08, 2019
On Tuesday night, Meghan McCain appeared on Seth Meyers -- I guess a comedy(?) show. Meyers wanted to make McCain feel bad for calling out the anti-Semitic Ilhan Omar. Not to mention, all the other offensive things the Congresswoman says (see Ilhan Omar's Uncovered Tweet Refers to American Soldiers as Terrorists and WATCH: Illhan Omar Won't Call 9/11 A Terrorist Attack). Meghan defended her position, backing herself with knowledge of anti-semitism's doings in Europe. Meyers fought back with douche.
MCCAIN: I stand by every single thing I've said, and if that makes me unpopular in this room, or in front of you, so be it.

DOUCHEY O'TURD: See, that's a weird thing that you would take the position of trying to be unpopular, here I am trying to, you know, find the common ground on this.
Ah, the leftist trope of "common ground." Also known as, "I want you to agree with me on everything, you bigot." Meghan McCain thinks antisemitism is bad even when Democrats are guilty of it. And that if you're an elected official, you should be held accountable for the words coming out of your mouth. Seth Meyers thinks, "Yeah, but ackshually...ORANGE MAN BAD!" See, there's your common ground. You both think that the orange man is bad. Now explain why McCain shouldn't criticize Omar.
Also, if Meyers is concerned about death threats, why does he make conservative women constantly threatened over their opinions on gun rights and Planned Parenthood?
MCCAIN: Are you her publicist?

DOUCHEY O'TURD: What?

MCCAIN: Are you her press person?

DOUCHEY O'TURD: No. I'm just [leftist talking points #5, #17, #22 and #41].

MCCAIN: What would make you happy coming out of my mouth right now? I'm genuinely curious.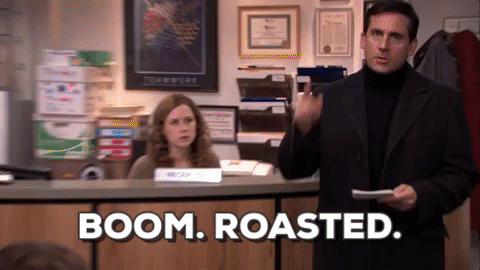 I wish I had a dollar for every time I felt like telling a leftist who was arguing with me, "Listen, just tell me what words and in what order you want me to say them to end this. Because I'm bored."
Remember, there is rarely ever common ground with leftists. There is only their opinion and your agreement of their opinion. Which in the case of people like Seth Meyers, usually means what was in the memo sent to his office by the DNC.
Kudos to McCain for standing her ground.