Each day we overwhelm your brains with the content you've come to love from the Louder with Crowder Dot Com website.
But Facebook is...you know, Facebook. Their algorithm hides our ranting and raving as best it can. The best way to stick it to Zuckerface?
Sign up for the LWC News Blast! Get your favorite right-wing commentary delivered directly to your inbox!
Comedy
WATCH: Dan Crenshaw on Outrage and Not Losing Our Sense of Humor
March 04, 2019
Outrage and outrage culture is the main reason we all know Representative Dan Crenshaw (see Navy SEAL Mocked by SNL Won't Demand Apology, Has Better Idea and Dan Crenshaw Appears on SNL's 'Weekend Update' to Roast Pete Davidson). The Congressman sat down with notorious tumbler merchant Ben Shapiro to discuss that SNL moment. More importantly, to also discuss how we all need to joke with each other again.
It's so important that we're able to joke with each other again. I think we really lost that. You can just look in the news every single day and find an example of this. We're so ready to pounce. And WE'VE got to be careful too, to not be overly sensitive.
The "we've" he's talking about now is conservatives. This is important. Our sense of humor is what separates us from leftists. That and a grasp on reality. The left constantly makes up new rules for what you can and cannot say, and who can even say it in the first place. Usually, they're the only ones who are allowed to say the thing, not you. Don't be a white woman mocking a tranny, is all I'm saying, Our position is simple.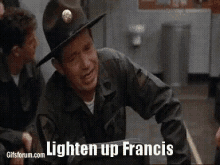 Ok, continue.
For the most part, we're better about that. But it doesn't mean we're perfect. And we don't want to be hypocrites either on this particular issue.

I'm not sure how to fix [outrage culture] other than to not be part of the problem. And to consider a little light heartedness every once in a while. I mean jeez, you saw my joke about the SuperBowl. I was like, "Really? This is what triggers people?"
That Super Bowl tweet:
Should someone propose a 70% tax on the Patriots so that NFL competition is more fair and equal? Asking for a friend.

— Dan Crenshaw (@Dan Crenshaw) 1549253835.0
One side having a sense of humor and the other side wanting to get outraged is where I see the next cultural shift. Traditional liberals are turned off by some of their more ideological colleagues. See, I can disagree with people on climate change or economic policy. Or the best way to protect our border. We can disagree and no one gets hurt.
I cannot have that conversation with you if you're going to attack me for opening up with a joke.