WATCH: Chris Hemsworth Nettles the Easily Triggered Brie Larson
April 18, 2019
Let's be perfectly clear: if I had to choose between saving a drowning Brie Larson or Chris Hemsworth, Brie Larson best be saying her prayers to whatever goddess she exalts. Other than herself. It's not even a contest. I'd save Chris Hemsworth so fast your head might spin as mine would staring at his glorious countenance. Chiseled by God himself. But, after watching these following two clips, I think you'd also save Chris over Brie. Despite that whole "women and children" thing. The duo were promoting Avengers: Endgame and Hemsworth, being the hotness that he is, dug in his heels to goad the easily triggered Larson. Watch, enjoy, and Thor effing rules.
Brie Larson teasing Chris Hemsworth about how Captain Marvel is stronger than Thor is everything we ever needed, tb… https://t.co/nN7BOZQ2TR

— Entertainment Tonight (@Entertainment Tonight) 1555118400.0
I've watched this clip a few times. I sense tension and it ain't sexual. Methinks Hemsworth and Larson aren't on friendly terms. Makes sense, considering Brie Larson is a witch with a capital B. The same Brie Larson has a thing against white male journalists, and probably white male whatever. Chris Hemsworth happens to epitomize maleness in ways I find rather titillating. Yes I know he's a liberal. Who cares. Did you see Thor: Ragnarok? Sweet baby Jesus.
But wait, there's more:
Brie Larson had the BEST clapback at Chris Hemsworth when he implied she did all her own stunts because she wanted… https://t.co/CWhiDVTiTi

— Entertainment Tonight (@Entertainment Tonight) 1555085354.0
Tom Cruise notoriously does his own stunts. He is, by all metrics, an incredible movie star. To be compared to Tom Cruise should be, unless we're talking about e-meters and thetans, a compliment. But Brie Larson just couldn't even when compared to a male star who made doing his own stunts great again. Either Hemsworth knew being compared to a mega successful white man would trigger Brie to new heights of not flying her own helicopter, or it was just a bonus. Either way, I applaud him.
But I was going to applaud him anyway.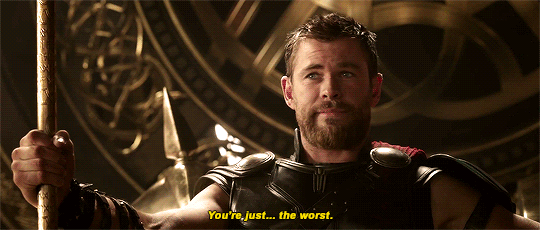 Here's the deal, Brie Larson. Sometimes it's okay to lighten up and not take your prissy, overinflated self so gosh darn seriously. You're an actress in a male-dominated movie franchise. Not just a male-dominated franchise, a hyper-masculine male franchise. That -- by the way -- is not a complaint. Captain Marvel is a late bloomer. But thank Iron Man, Captain America, Thor, and the Avengers (mostly men) for your new role in the Marvel universe. That doesn't mean men rule and women drool. It means America appreciates strong, hottie men. So chill out and enjoy the ride. I won't tell you to smile, but it's okay to laugh at some jokes. Even if they're at your expense.
NOT SUBSCRIBED TO THE PODCAST? FIX THAT! IT'S COMPLETELY FREE ON BOTH ITUNES HERE AND SOUNDCLOUD HERE.