Each day we overwhelm your brains with the content you've come to love from the Louder with Crowder Dot Com website.
But Facebook is...you know, Facebook. Their algorithm hides our ranting and raving as best it can. The best way to stick it to Zuckerface?
Sign up for the LWC News Blast! Get your favorite right-wing commentary delivered directly to your inbox!
Journalisming
WaPo gets fact-checked into oblivion over "girl" kicked out of sorority house, she's really a biological male getting boners
October 15, 2023
Community Notes on X remains undefeated. And while Elon Musk runs the second most pro-free speech platform on the Internet behind Rumble, and while it's only a matter of time before X CEO Linda Yaccarino does away with Community Notes claiming it's what "sponsors" want, we should enjoy Community Notes while we have it.
The most recent to get fact-checked is The Washington Post. They attempted to create content about a 21-year-old University of Wyoming student who was looking for community, but instead, she faced death threats, a federal lawsuit and an attempt to kick her out of her sorority. She's a very manly-looking woman, but... it's 2023. Know what I mean?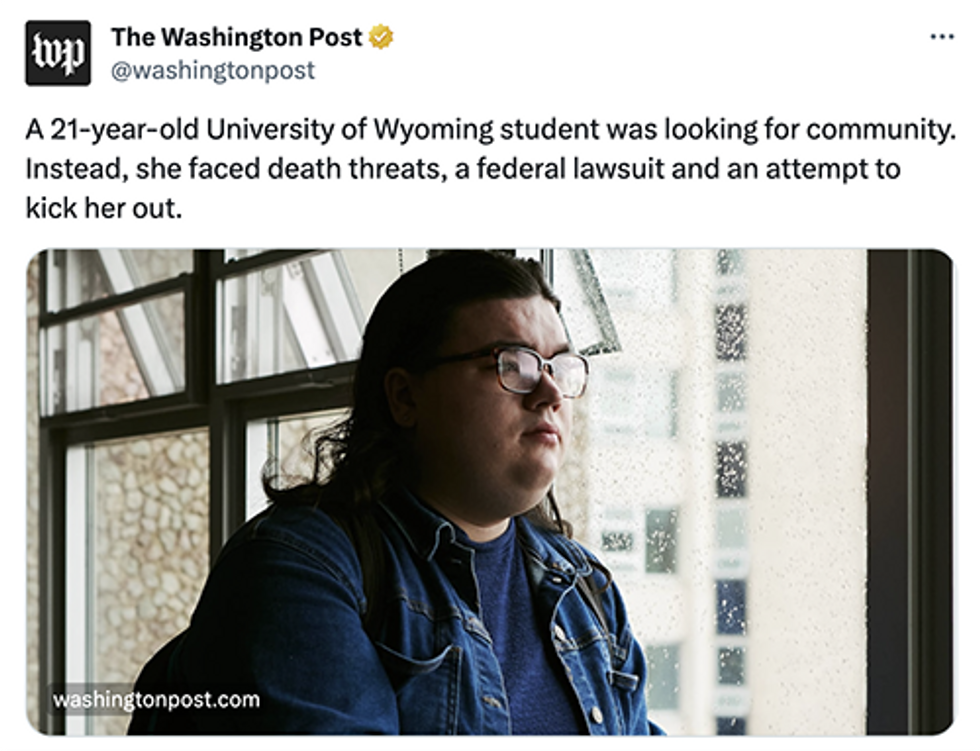 It sounds like a sad story, sure. But then Community Notes adds context it thinks you might find interesting.
1. The girl's name is Artemis Langford.
2. She is a biological male.
3. A lawsuit was filed by 6 University of Wyoming women who sued Langford and Kappa Kappa Gamma sorority over Langford's admission to the house, citing allegations that Artemis had been "voyeuristically peeping on them".
We've covered the story here on the Louder with Crowder Dot Com website. Earlier this year, members of the Kappa Kappa Gamma sorority filed a lawsuit against the Wyoming chapter after the Kappa's allowed Artemis to shatter a glass ceiling and help the Kappa's become the first sorority in Wyoming history to allow a transgender student into their ranks.
Not all the sisters who were born that way found this decision to be beautiful and brave. Among the girls' complaints:
One sorority member walked down the hall to take a shower, wearing only a towel. She felt an unsettling presence, turned, and saw Artemis watching her silently.
Artemis has, while watching members enter the sorority house, had an erection visible through his leggings.
Artemis repeatedly questioned the women about what vaginas look like, breast cup size, whether women were considering breast reductions
One time Artemis was asked to leave a sorority slumber party, but wouldn't, and said he'd leave after the girls fell asleep.
Those complaints were dismissed in August when a Wyoming judge would not define what a woman is. Or at least used to be.
The girls appeared with Megyn Kelly earlier in the year. The journalismers at WaPo want you to feel bad for Artemis and have decided that s/he's the victim here. But imagine it's your daughter who is being put in a position where she has to explain out loud, "You go home at the end of the day to feel comfortable and relaxed in your own skin, and you can't do that knowing that this individual has full access to your house. Some girls live in constant fear in our home, and our home is supposed to be a safe space."
Thank you once again, Community Notes. You saved us a click and prevented us from making the mistake of driving traffic to The Washington Post.

><><><><><><
Brodigan is Grand Poobah of this here website and when he isn't writing words about things enjoys day drinking, pro-wrestling, and country music. You can find him on the Twitter too.
Facebook doesn't want you reading this post or any others lately. Their algorithm hides our stories and shenanigans as best it can. The best way to stick it to Zuckerface? Sign up for our DAILY EMAIL BLASTS! They can't stop us from delivering our content straight to your inbox. Yet.