Each day we overwhelm your brains with the content you've come to love from the Louder with Crowder Dot Com website.
But Facebook is...you know, Facebook. Their algorithm hides our ranting and raving as best it can. The best way to stick it to Zuckerface?
Sign up for the LWC News Blast! Get your favorite right-wing commentary delivered directly to your inbox!
Watch: Bystander helps put an end to a police chase... then just gets back in his truck and bounces
July 17, 2023
Oklahoma Police were quick to remind citizens to put their own safety first before engaging with any nefarious characters. Not that they didn't appreciate the assistance of a random bystander seeing a cop in pursuit of a suspect and lending a hand.
Or to be more precise with my language, lending a full-body tackle. "Why you do me like that, homie?"
The suspect was at first being arrested for possession of drug paraphernalia. Then for resisting arrest, which we see in the video. Then there were a number of outstanding felony warrants for Burglary, Conspiracy, Larceny, and Illegal Firearm Possession. Hence the dude running after giving police a fake name.
What Druggy McResist did not anticipate was some random dude driving by, stopping his truck, and introducing Druggy's face to the pavement.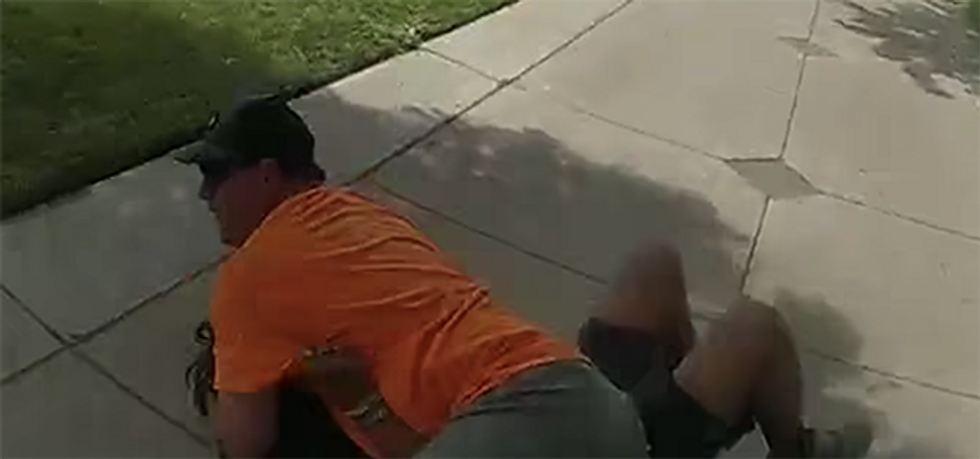 Our hero didn't even stick around. He went to get back in his truck and bounce. This could only have been cooler if upon tackling Druggy he got up, lit up a cig, and had a cool one-liner.
"I just did you like that, homie."
"There's no outrunning DEEZ..."
"There were two hits. Him hitting the pavement, and Toby Keith's 'Beer for My Horses' blasting out of my truck."
He at the very least needs Dre's "The Next Episode" playing in the background as he walks away.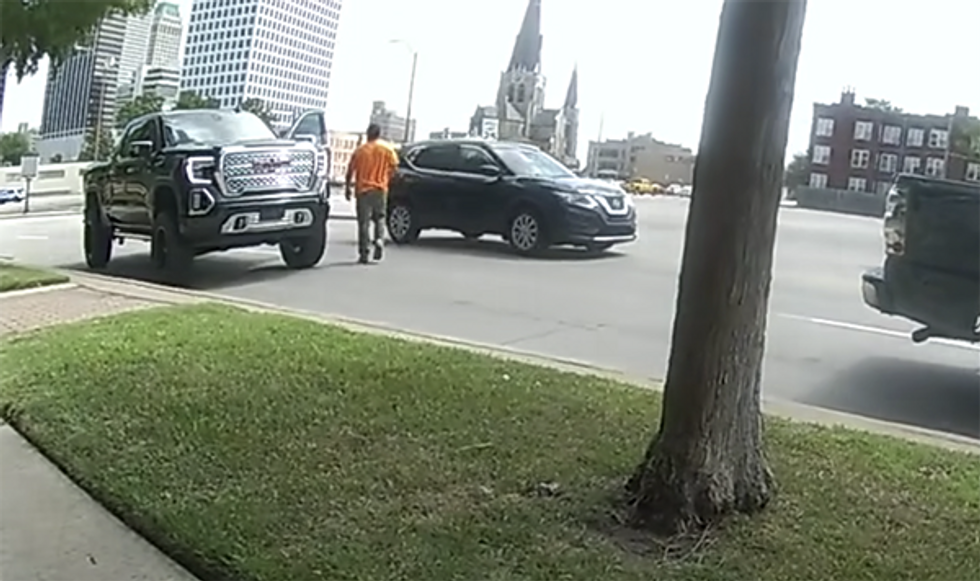 Tulsa police added that they love our citizens and greatly appreciate all the support that we get from you. They also want to make sure you know Druggy was only arrested and has not been convicted of anything yet.
No one really knows what happened to the Man in Orange...
><><><><><><
Brodigan is Grand Poobah of this here website and when he isn't writing words about things enjoys day drinking, pro-wrestling, and country music. You can find him on the Twitter too.
Facebook doesn't want you reading this post or any others lately. Their algorithm hides our stories and shenanigans as best it can. The best way to stick it to Zuckerface? Sign up for our DAILY EMAIL BLASTS! They can't stop us from delivering our content straight to your inbox. Yet.