Each day we overwhelm your brains with the content you've come to love from the Louder with Crowder Dot Com website.
But Facebook is...you know, Facebook. Their algorithm hides our ranting and raving as best it can. The best way to stick it to Zuckerface?
Sign up for the LWC News Blast! Get your favorite right-wing commentary delivered directly to your inbox!
2020 Election
Top Five Dumpster Fire Moments from Joe Biden's 2020 Campaign
March 03, 2020
Inside baseball time. This morning I commented to Brodigan and Reg that there were so many embarrassing, cringeworthy but hilarious Joe Biden moments. Brodigan said it was hard to know which moment to choose from and deliver to y'all, hot and spicy. To which I said I wouldn't choose. I'd deliver all the bits in a top five post and hope you're ready for an overdose of what might be signs of early dementia. Are you a bad person for taking a little pleasure from watching Biden stumble mumble and fumble his words? Possibly. But as the left likes to tell us, live your truth.
Because I wrote "dumpster fire" in the title: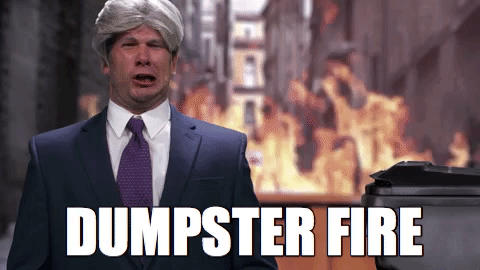 Let's roll up our sleeves and get to the neck sniffing. Starting from the bottom and working our way up (that's what he said).
FIVE: Biden promising to raise taxes. 
Promising voters he'll take more of their money, after Trump has successfully spurred economic growth with a little help from tax cuts. It's a bold strategy, but Uncle Joe Grabberson is nothing if not bold. With the promises and the groping fingers.
FOUR: See ya, Chuck. I mean Chris.
Before I throw a rock on this one, let me first step outside my glass house. Brr. Chilly.
Remembering names can be tough, even for those of us who're self-absorbed. Okay? Okay. But if you're running for president, you're appearing on a show, and you're bad with names/losing the rattling marbles in your noggin, get a sticky note and put it just below the camera lens. Write on it: CHRIS WALLACE!
THREE: Poot Buttgig endorses Sleepy Joe, while mimicking a Texas accent.
Taking on an accent of the local people might have been a good strategy before video cameras and national election coverage. Which was about — mmmm — 70 plus years ago. But now, thanks to things like computers, cameras, and news that travels faster than by horse-driven carriage, it isn't. In fairness to Pooty here, the accent isn't terrible. Well, perspective. It's not as terrible as the time AOC tried the black accent of some kind, or when Lady Pantsuit butchered some kind of accent way back in the day before Epstein didn't kill himself.
FOUR AND FIVE: I'm not making everything free except the things I'm making free, and you know the thing.
I know sometimes Trump can say or tweet stupid/embarrassing things, but he's not anywhere close to this. Also, Biden wants Trump's job. The man who can't remember some rather basic American tenets wants to represent you, lead you, be elected by you. He wants to be the most powerful man on Earth. Remember that and watch the above videos again.
Sure, Bernie Sanders is also a scary prospect, but right now he's not as funny as Fumble McMumble, grab her by the neck, bloody red eye, teeth slipping, child grabber.
Yeah, there's a strong possibility Biden is losing a few neurons. For more moments of WTF, this video:
Need a quick laugh? Check out and subscribe to our new YouTube channel CROWDER BITS for Louder with Crowder skits, opens, and parody videos!