Each day we overwhelm your brains with the content you've come to love from the Louder with Crowder Dot Com website.
But Facebook is...you know, Facebook. Their algorithm hides our ranting and raving as best it can. The best way to stick it to Zuckerface?
Sign up for the LWC News Blast! Get your favorite right-wing commentary delivered directly to your inbox!
Show
SHOW NOTES: New Twitter CEO Parag Agrawal is ANTI-FREE SPEECH
November 30, 2021
Parag Agrawal is the new Twitter CEO, and so far he looks WORSE than Jack Dorsey. We expose how. We also take a look at how the worst Republican is still better than an average Democrat. And why is the left turning Christmas woke with a gay Santa?
UNEARTHED AUDIO! New Twitter CEO Parag Agrawal is ANTI-FREE SPEECH | Louder with Crowderyoutu.be
NEW TWITTER CEO

Just this morning after Agrawal was named CEO, Twitter banned sharing photos of private individuals without their consent. SOURCE: Twitter
In 2019, Agrawal purchased Fabula Artificial Intelligence for Twitter. SOURCE: Twitter
Fabula AI uses Snopes and Politifact to combat misinfo. SOURCE: Variety

Snopes rated Biden saying, "You're not going to get Covid if you get these vaccinations" as "correct attribution" as opposed to "false." SOURCE: Snopes
In MAY of 2021, Snopes published an article claiming the definition of "anti-vaxxer" has never changed. And technically they were correct because it changed in October. Snopes

Archived Oct 1, 2021 definition reads, "A person who opposes vaccination or LAWS that mandate vaccination." SOURCE: Archive
The October 4 archive and current page reads, "A person who opposes the use of vaccines or REGULATIONS mandating vaccination". SOURCE: Archive, MerriamWebster

In 2019, Jack Dorsey picked Parag to find a head for Project Bluesky. Project Bluesky is described as: "An independent team of open source architects, engineers, and designers to develop an open and decentralized standard for social media that would help better control abusive and misleading information on its platform." SOURCES: Twitter, TechDesignHub
In a 2020 interview with MIT Technology Review, Agrawal commented on free speech. And when asked to define "misinformation," Agrawal said, "I think that's the existential question of our times. Defining misinformation is really, really hard. As we learn through time, our understanding of truth also evolves. So, we focused way less on what's true and what's false. We focus way more on potential for harm as a result of certain content being amplified on the platform without appropriate context." SOURCES: Twitter, MIT
Parag also described religion as a pyramid scheme.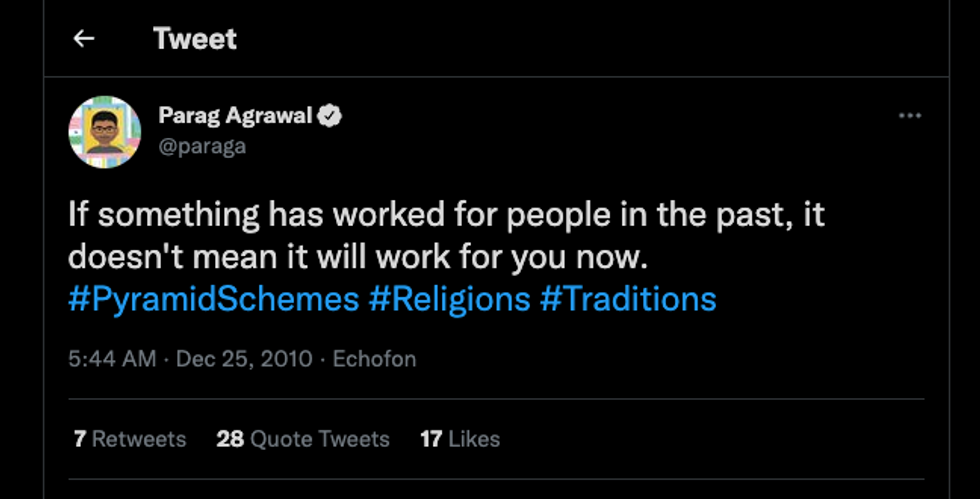 THE WORST REPUBLICANS VS THE AVERAGE DEMOCRAT.
We often hear "oh, well, both sides have extremists!" According to the left, most radically "sexist" laws = heartbeat abortion bills. And most "racist" and "white supremacist" laws and positions = basically any law proposed by a Republican. Examples:
Let's point out the insane legislation and agendas of MAINSTREAM Democrats.

Radical environmental legislation--The Green New Deal. This would only cost $10 trillion. SOURCES: BusinessInsider, NPR
Radical pro-abortion legislation through 9 months, or if you're Ralph Northam, AFTER birth. SOURCE: Twitter
Radical taxation and redistribution legislation-- Bernie doesn't think a 90% tax rate on the top tier is too high. SOURCE: Archive
Radical COVID rules, Big Brother style government, vaccine mandates, etc.
Single-payer healthcare system like the UK or Canada-- 4x more likely to die in UK hospital than in the US. SOURCE: DailyMail
Radical anti-gun legislation. SOURCES: WhiteHouse, TexasTribune, NBCNews
Get your content free from Big Tech's filter. Bookmark this website and sign up for our newsletter!