Seattle Won't Remove Dangerous Homeless Encampment on School Grounds But Kids are... Forced to Wear Masks?!
August 27, 2021
Seattle used to be a beautiful city. The frequent rain clears the air of pollutants meaning that on a sunny day, the city from Puget Sound and from land looking out at the water is postcard beautiful. Picturesque or not, Seattle is a pit. Western Washington is a pit. If you're still there, perhaps it's time to consider the area lost, fallen into enemy hands. Because now there's an actual homeless encampment on school grounds. Elementary school grounds. As in adorable kindergartners through annoying eighth-graders. The Seattle Public School system is doing jack shit about it. Incidentally, kids are forced to wear masks. You know, to protect them from COVID-19. I wish I was making this crap up.
This scoop comes from The Post Millennial, who is absolutely tearing up the internet lately. All my hats are tipped in their direction.
Six weeks after Seattle Public Schools hosted a public meeting to address a dangerous homeless encampment on a public school property, pinning their hopes on one-man organization with an extensive criminal record to solve the problem, it was announced that the encampment behind Broadview Thomson K-8 School will not be removed before classes start on Sept. 1.
Parents have done their due diligence. They've asked politely. They've probably asked more rudely. And yet, Seattle Public Schools is doing almost nothing about this. What they have done is hire a former homeless guy for help. Totally makes sense. When I have a health problem, I don't go to a doctor. I go to someone who's had the same disease. We'll get more to Mike Mathias in a bit.
Teachers, parents and neighbors have been calling for the encampment's removal for over a year but have been stymied multiple times by the school board. In that time, the encampment has grown and currently 55 people are still living in tents on the property.

55 people living on the elementary school grounds. All of them misunderstood pinnacles of health, safety, and good behavior I'm sure. No heroin needles to be found. No COVID spreading. No violence or penchants for sexual assault.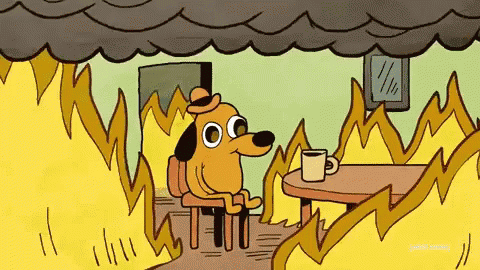 This Is Fine GIFGiphy
Teachers, parents and neighbors have petitioned the city and the school board to do something about the problem. Nothing has been done. I do have some suggestions for y'all, since it seems all the legal avenues have been taken.
During a meeting Thursday night hosted by deputy superintendent Rob Gannon, school board member Liza Rankin, and Mike Mathias of Anything Helps, Mathias falsely claimed that the encampment was not a security threat despite numerous lockdowns in the school, violence in the encampment and overdose deaths. Due to the encampment, the district was forced to hire security guards after having banished police officers as school resource officers from campuses in 2020.

There it is. No police officers since 2020. Danger went up. This is as shocking as soaked clothes after bellyflopping into a pool, though not nearly as funny. We're talking about kids in danger. Because of the homeless. Parents have basically said it seems like the city and the district care more about the homeless than the children. Allow me to confirm it with a giant YES.
The school district's answer is hiring the former homeless Mathias who, as far as I can tell, has been as helpful to the problem as Joe Biden to the 13 dead marines in Afghanistan. The Post Millennial has a lot more details on the problem, including video of an assault taking place. Check out the full article for the full disaster. They did the main writeup. They should get your clicks.
But what I'm now going to do is offer a few ideas. It looks like all legal options have been exhausted. So if I may, if there are parents or teachers at the school looking for ideas to try out entirely on their own, I might have a few. My first idea is to quit the school. If you're a teacher, quit. If you're a parent, quit. If you're a child attending, quit. This is a district that gives no shits about you. It cares only for the urban outdoorsmen who call the school grounds their toilet. Meanwhile, visitors, staff and students are all required to wear masks. I know I said that already. The gross hypocrisy bears repeating.
If the first option isn't an option for whatever reason I'll judge you for privately, here are some other ideas you shouldn't try because to do so might be misconstrued as mean.
Gift the homeless blokes blankets. That may or may not be infested with fleas.
Similarly, offer pancake breakfasts. Just don't you dare slip a little Ex-Lax into the batter. Make sure the butter isn't mayonnaise, that would be tragic.
Play loud, disturbing sounds from the school's speaker system at night. Hillary Clinton speeches. A Kamala Harris cackle. Joe Biden mumbling. The world is your soundtrack. Rock it.
Nothing is more soothing or harmonic than an elementary school band practice. Why not a concert a few nights a week? I recommend Beethoven's fifth symphony. If music be the food of love, play on.
Seattle is never without water. I'm not suggesting parents and teachers hose out the encampment. I'm also not not suggesting it.
I would also never in a million years encourage the volleying of water balloons into the encampment as a PE assignment or science class lesson on parabolas. Nor would I dare suggest the water balloons be filled with substances other than water.
I'm not saying other parents in other school districts facing similar problems should take inspiration from the ideas listed above. But I wouldn't be heartbroken if they did so.
In any event, God gave us imaginations. America is advertised as a free country. We used to be a resourceful people who didn't take bull crap from overbearing authorities. Maybe it's time to get back to our roots.
Get your content free from Big Tech's filter. Bookmark this website and sign up for our newsletter!