'Rapid Onset' Gender Dysphoria Plagues Young College Students
January 08, 2019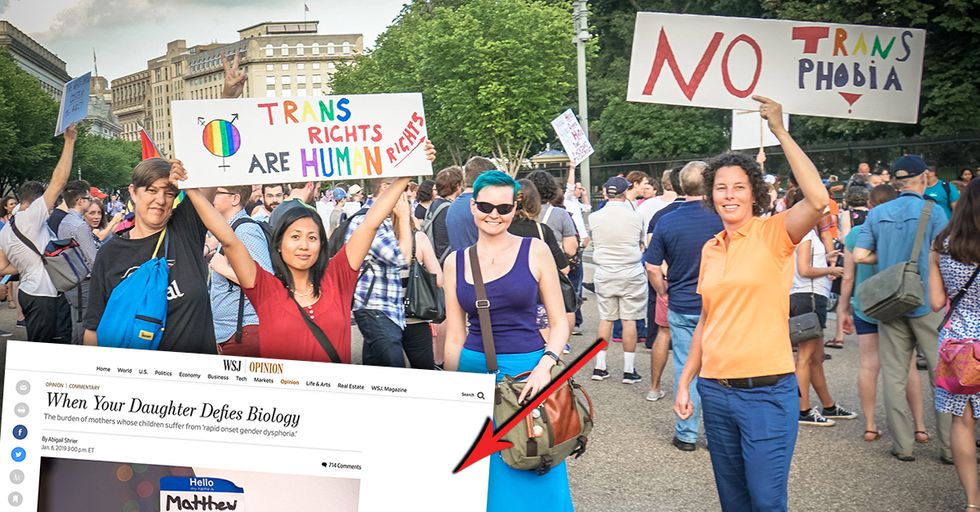 You know how transgender folk claim they were born a pretty princess in a bro's body. Or the other way around. Well, with the advent of college kiddos swapping genders like they're Pokemon cards, "rapid onset" gender dysphoria is now a thing. Yeah, really:
A reader contacted me under a pseudonym a few months ago. Her college-age daughter had always been a "girly girl" and intellectually precocious, but had struggled with anxiety and depression.

The young woman went off to college—which began, as it often does these days, with an invitation to state her name, sexual orientation and "pronouns." When her anxiety flared during her first semester, she and several of her friends decided their angst had a fashionable cause: "gender dysphoria." Within a year, the lawyer's daughter had begun a course of testosterone.
Yep, a perfectly normal lass goes off to a leftist indoctrination center college and coincidentally comes back sporting a Tapout t-shirt and a flattop.
This is the phenomenon Brown University public-health researcher Lisa Littman has identified as "rapid onset gender dysphoria." ROGD differs from traditional gender dysphoria. [It] is a social contagion that comes on suddenly in adolescence, afflicting teens who'd never exhibited any confusion about their sex.
What's funny here is how this new diagnosis flies in the face of transformers' whole "born this way" narrative. It's kinda hard for a guy to claim vagina is his default setting when you've got grown adults swapping out their naughty bits on a whim. Something tells me they didn't think this one through.
This whole thing reeks of young adults being a bunch of followers. Back in the day, a tongue piercing or a butterfly tattoo was sufficient enough to make a gal feel like an individual. Not anymore. Now, nothing short of a beard and some faux-berries is enough to satisfy the ladies' desire to seem unique.
Let's get real here, the whole trans movement is a bunch of unscientific bullhickey. Pro-trans folk can't make up their minds whether they're an "(insert gender) trapped in a (insert gender)'s body" or they're just picking trannydom off a menu. It'd make a lot more sense if they'd pick a narrative and stick with it.
Until then, seems like "Rapid Onsent Gender Dysphoria" is really just "I have no personality, please pay attention to me."
While we're on the transgender subject:
NOT SUBSCRIBED TO THE PODCAST? FIX THAT! IT'S COMPLETELY FREE ON BOTH ITUNES HERE AND SOUNDCLOUD HERE.