Each day we overwhelm your brains with the content you've come to love from the Louder with Crowder Dot Com website.
But Facebook is...you know, Facebook. Their algorithm hides our ranting and raving as best it can. The best way to stick it to Zuckerface?
Sign up for the LWC News Blast! Get your favorite right-wing commentary delivered directly to your inbox!
Culture Wars
Rainn Wilson attempts feeble dunk on "Rich Men North of Richmond," gets annihilated with one tweet from a veteran
August 21, 2023
VOTE IN THE LWC 2024 GOP STRAW POLL! CLICK HERE!
Oh, Dwight.
Actor Rainn Wilson had been poking his head out and sharing the occasional common sense thought as of late. But when it comes to "Rich Men North of Richmond," Wilson's inner smug leftist douche could not be contained. Had HE wrote the song, it would have gone a little something like this:
"I wouldn't talk about obese people on welfare, I'd sing about CEOs who make 400 times their average workers' salary (up from 50 times 30 years ago) & corps that pay zero taxes & offshore tax shelters for billionaires."
Economic illiteracy aside, his tweet can be summed up thusly:
It could be that Dwight is having a hard time finding songs that he agrees with culturally or politically. He isn't alone on the Left. Having one song (two if you include "Try That in A Small Town") that appeals to the middle class go popular is too much for progressives to handle. It needs to be delegitimized and destroyed. Since singer-songwriter Oliver Anthony doesn't have social media they can troll to find a bad meme he liked, smugly dismissing his lyrics is the next logical step.
Though, as veteran Joey Jones SAVAGELY points out, you would think Rainn would have learned a thing or two acting as Dwight Schrute from The Office.
"But you didn't write it. You played a parody character of a Pennsylvania farmer turned office worker. You did a fantastic job exploiting a very real simple/humble upbringing as well as the rat race of middle class white collar workers. You did such a good job making fun of their existence it made you a multimillionaire."
Jones' clap back (as the kids call it) to Rainn can be summarized thusly: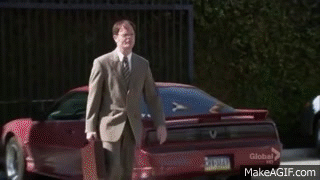 I could explain that Anthony wasn't attacking people on welfare. He was singing about the frustration of people who work hard and barely scrape by, and looking at the government seemed more concerned about the people who don't. Also when he sings "I've been sellin' my soul, workin' all day / Overtime hours for bullshit pay", there is an above-average chance his employer is one of them millionaires and billionaires that Rainn wishes the song was about. We know the rich men north of Richmond are all millionaires and billionaires.

Rub some beet juice on it, Dwight.
><><><><><><
Brodigan is Grand Poobah of this here website and when he isn't writing words about things enjoys day drinking, pro-wrestling, and country music. You can find him on the Twitter too.
Facebook doesn't want you reading this post or any others lately. Their algorithm hides our stories and shenanigans as best it can. The best way to stick it to Zuckerface? Sign up for our DAILY EMAIL BLASTS! They can't stop us from delivering our content straight to your inbox. Yet.