Projection Suggests Alexandria Ocasio-Cortez's 'Green New Deal' Would Have Minimal Effect on Climate
January 08, 2019
You might have heard Congresswoman Alexandria Ocasio-Cortez rambling on about her "green new deal" plan. She thinks she's gonna raise taxes, create a bunch of regulations and she'll singlehandedly win the climate war. It'll be bigger than the time Louis Armstrong pretended to land on the moon.
Somebody crunched the numbers on her little plan and the projection is showing it'll have next to no effect on the climate.
Democrats are increasingly lining up behind New York Congresswoman Alexandria Ocasio-Cortez's call for a "Green New Deal," but few, if any, have talked about its actual impact on global warming.

Even if all the Green New Deal's goals were achieved, it would have a negligible, and likely immeasurable, impact on projected global warming, according to climate model simulation provided by a libertarian think tank.
Yep.
"I seriously think the effect would — at best — be barely detectable in the climate record," Patrick Michaels, a climatologist with the Cato Institute, told The Daily Caller News Foundation.

So, how much warming would a "Green New Deal" avert by the end of the century? Slightly under 0.14 degrees Celsius, according to Cato's temperature calculator.
So, nearly a century's worth of taxation to yield a teeny tiny decimal point worth of results.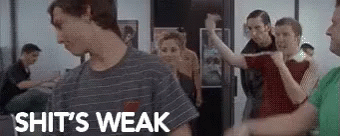 Look, I'm all in favor of being a good steward of the earth. Refraining from littering. Throwing the book at industrial douchenuggets who dump toxic waste in rivers. Basically whatever it takes to keep that Indian guy from crying. What I'm not down with is taxing the bejeezus out of working people. All to fight something some people aren't sure we're even causing.
This here is the perfect example of leftist policies as a whole. As Allegra Orion-Cerberus has already made clear, for lefties, being factually accurate doesn't matter as much as feeling like they did something. Even if the burdensome regulations and taxes would have a negligible effect on the climate, they're still all for it. If only so they can pat themselves on the back.
Don't get your hopes up this projection will have any effect on the left's plans for more taxes and regulations. They're on a mission to make your money theirs and no amount of facts is going to stop them.
Speaking of climate change:
NOT SUBSCRIBED TO THE PODCAST? FIX THAT! IT'S COMPLETELY FREE ON BOTH ITUNES HERE AND SOUNDCLOUD HERE.