Posh private school caught teaching kindergarteners 'whites make it harder for black people'
July 28, 2022
Leftists will tell you CRT is not being taught in schools. Then they'll tell you that people who don't want CRT taught in schools don't want their kids learning about slavery or the civil rights movement. Then they'll just call you raaaaaaacist. I don't care how you label what St. Andrew's Episcopal School in Austin is pushing on kindergarten students. Other than "gross," "divisive," and possibly "Marxist."
A parent leaked to Libs of TikTok (make sure you subscribe to her substack) how the school is indoctrinating her child. Here's a recent lesson plan: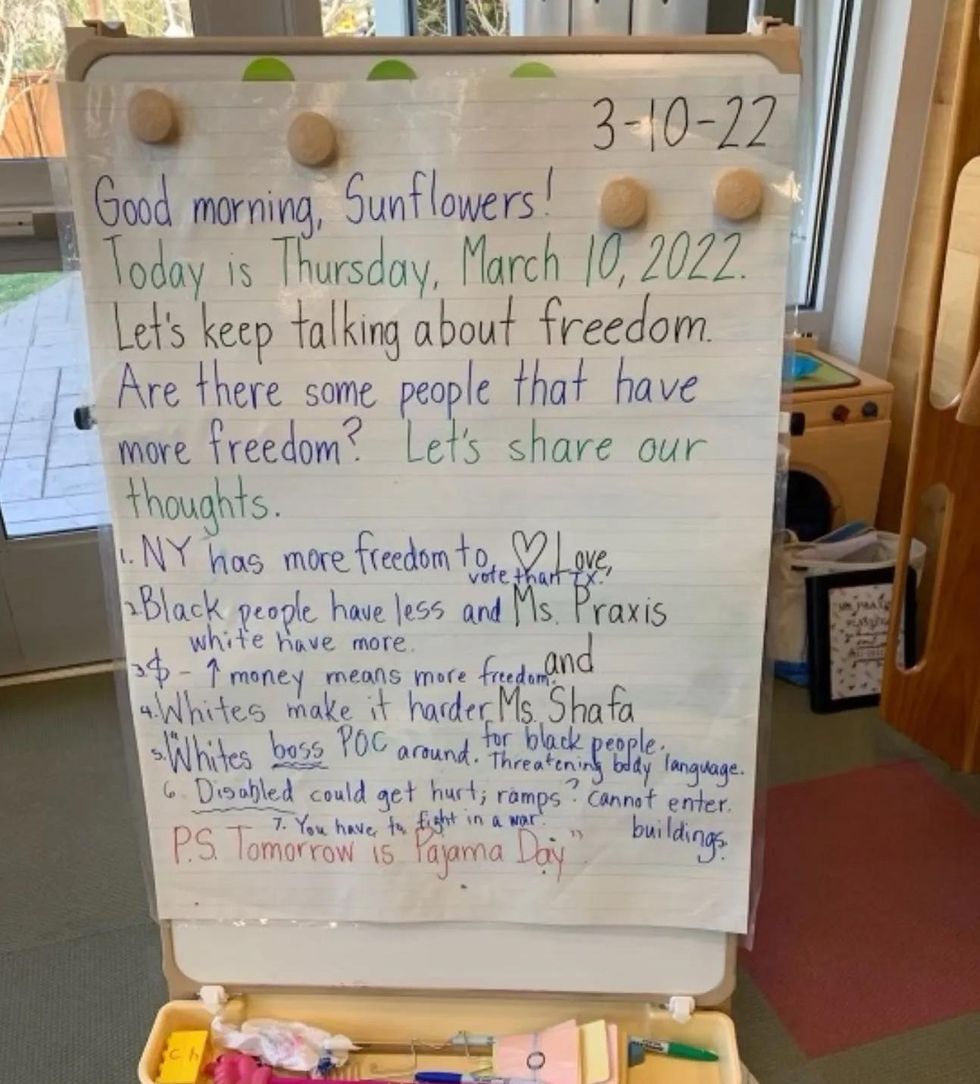 Children around ages 4-5 are being taught "whites make it harder for black people," "black people have less and white people have more," and "whites boss POC around."
Side note, tomorrow is Pajama Day, so that's good.
The school didn't respond to LOTT's request for comment. The parent who leaked this to LOTT told her, "When parents confront them like I did, they will first say it was an oversight, and if you keep asking too many questions, they will tell you that you're an extremist."
You are an extremist for thinking your kindergarten student should be learning sight words instead of learning to resent the person sitting next to them at the table. Or teach them that when they go home, one of their parents makes it harder for the other one of their parents.
It's disgusting. Children in kindergarten are just learning how to make friends and work together with other people. And in the name of Democratic Party orthodoxy and the leftist agenda, "teachers" think it's their place to divide students into groups, label one group "oppressed" and one group "oppressors," and play them off each other. Four- and five-year-olds! Before the kids have a chance to make friends, their teachers are teaching them to hate. And if you disagree with it, YOU'RE the extremist.
The school charges $26,870 a year in tuition. Parents need to demand a refund.
The Louder with Crowder Dot Com Website is on Instagram now!Follow us at @lwcnewswire and tell a friend!
John Oliver GASLIGHTS His Audience on CRT | Louder With Crowderyoutu.be