Each day we overwhelm your brains with the content you've come to love from the Louder with Crowder Dot Com website.
But Facebook is...you know, Facebook. Their algorithm hides our ranting and raving as best it can. The best way to stick it to Zuckerface?
Sign up for the LWC News Blast! Get your favorite right-wing commentary delivered directly to your inbox!
Culture
Customer makes mistake of attacking Popeye's employee, catches a side of these hands instead of mashed potatoes
May 25, 2023
I understand it's easy to get fast food places confused. And there is an ongoing social media debate about Chik-Fil-A vs. Popeye's. Let this video be an explainer. Say you curse at and throw something at the person behind the counter. Chik-Fil-A is where they will pray for you that you have a better day. Popeye's is where they say "okay, it's my turn."
I don't know how many times we have to be over this. Out of all retail workers, fast food workers have the least amount of f*cks to give. The woman behind the counter has no doubt gotten yelled at three times because the order took twelve seconds too long. She's had to clean the bathroom twice because customers are savages. And no, you can't get an extra biscuit.
Also, fast food workers always have backup. How do you know this? YOU SEE THEM BEHIND THE COUNTER.
This is a photo of instant regret. If it had audio, you'd hear a record scratch and Maroon Shorts would narrate: "Yeah, that's me. You're probably wondering how I got into this situation."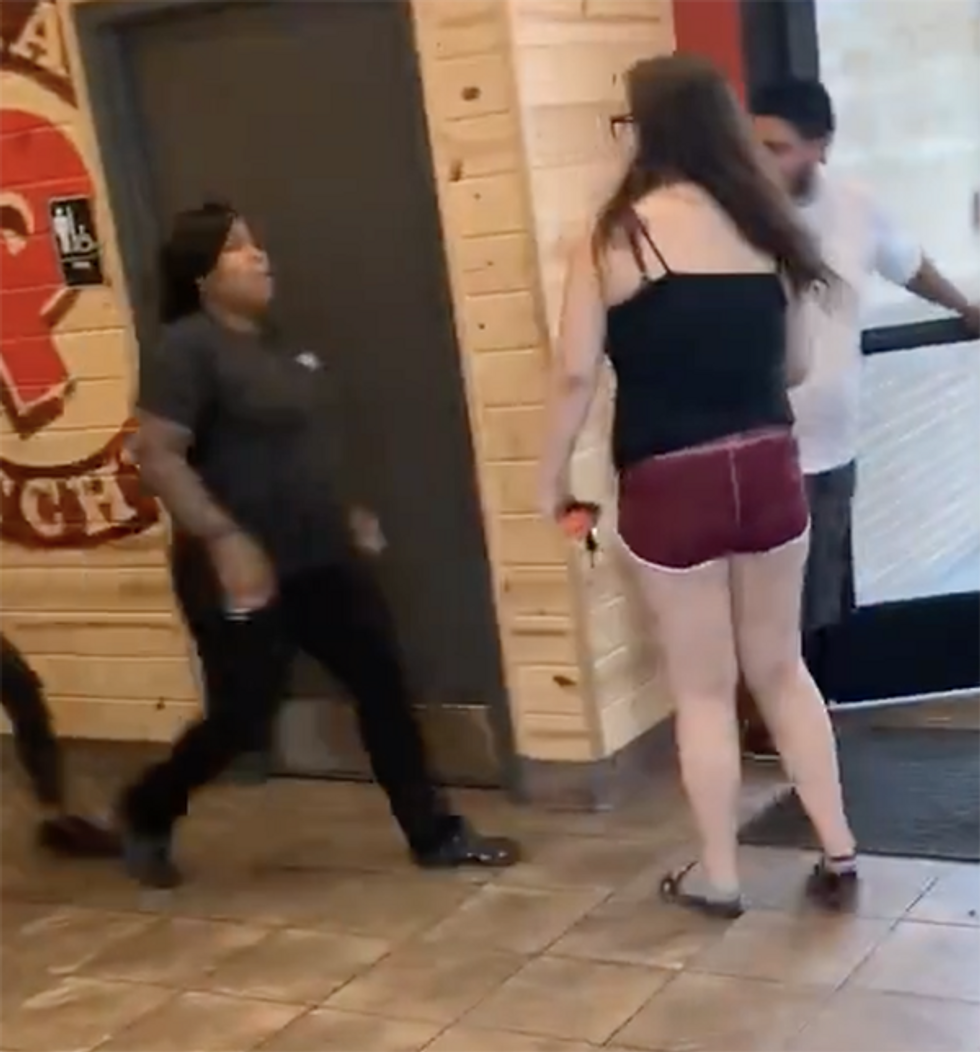 And here's the backup I was telling you about. Were they trying to break it up? Were they trying to get their shots in too? Did they start breaking it up, but then things and stuff happened? Honestly, I'm just here for the chaos. I'm also someone who lives his life by the ancient teachings of "don't start none, won't be none."
Whatever led to it popping off, the ladies involved needed to ask themselves if it was worth becoming viral sensations over. Moreso, Maroon Shorts needs to ask herself that. The Popeye's crew held it down.
><><><><><><
Brodigan is Grand Poobah of this here website and when he isn't writing words about things enjoys day drinking, pro-wrestling, and country music. You can find him on the Twitter too.
Facebook doesn't want you reading this post or any others lately. Their algorithm hides our stories and shenanigans as best it can. The best way to stick it to Zuckerface? Sign up for our DAILY EMAIL BLASTS! They can't stop us from delivering our content straight to your inbox. Yet.