Each day we overwhelm your brains with the content you've come to love from the Louder with Crowder Dot Com website.
But Facebook is...you know, Facebook. Their algorithm hides our ranting and raving as best it can. The best way to stick it to Zuckerface?
Sign up for the LWC News Blast! Get your favorite right-wing commentary delivered directly to your inbox!
Culture
Watch: Police get so distracted arresting sneaker thief, they miss another dude stealing the stolen sneakers
March 11, 2023
Credit the cops for trying. Thanks to the progressive "defund the police" agenda where stealing has been made legal-ish up to a certain amount in progressive cities, these videos tend to show the thief getting away with stolen goods because they know no one is going to stop them. This one guy was getting arrested. Justice is served.
Though if I could offer a slight criticism to the police officers, when there are three of you, one -- probably the girl -- should be tasked with keeping an eye on your surroundings. If not, this happens.
What happened, if I'm observing the situation correctly, is someone at the mall witnessed the arrest in action and took out their smartphone. No doubt hoping to catch the thief screaming "I can't breathe" or "hands up, don't shoot" or some other bullsh*t. Instead, they capture a boring, by-the-books arrest.
But as luck would have it some other guy --- walking with a cane -- waddled through the shot. He saw the Jordans. He saw no one paying attention. On the grounds of "finders keepers," he bagged up his new sneakers and hopped on an escalator.
They're going to have a hard time explaining this to the chief.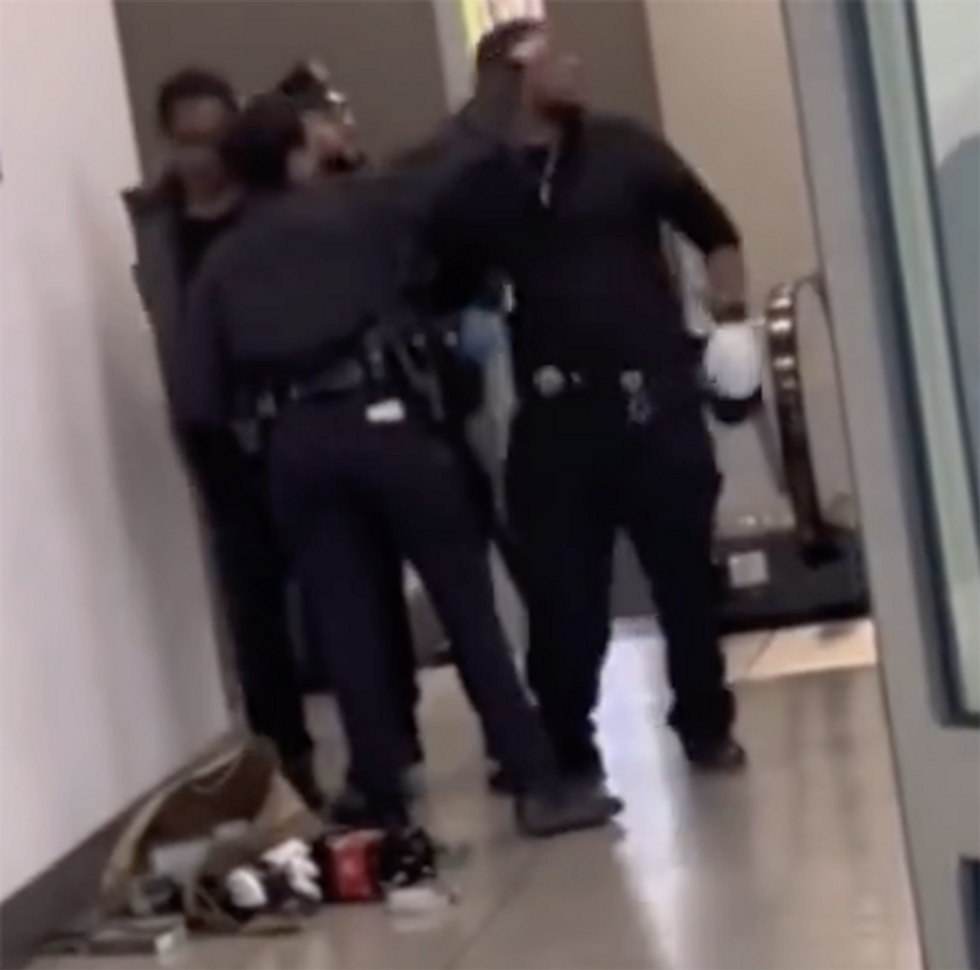 And because everything is better with music...
The three officers are never going to live this down. Ten bucks say a screen capture of the old dude is taped to each one of their computers at the station. And that they'll be resigned to mall duty for the foreseeable future.
Editor's Note:
It's official. MugClub. Is. Back.
Everyone here at the team is thrilled to inform you that MugClub relaunches on March 20, 2023. It is bigger, it is better, it is more affordable, it will include MORE content than ever AND it's powered by Rumble!
Did I mention that the annual price has been lowered from $99 to $89?