Each day we overwhelm your brains with the content you've come to love from the Louder with Crowder Dot Com website.
But Facebook is...you know, Facebook. Their algorithm hides our ranting and raving as best it can. The best way to stick it to Zuckerface?
Sign up for the LWC News Blast! Get your favorite right-wing commentary delivered directly to your inbox!
Culture Wars
Pop-tartlet P!nk is giving out copies of books deemed too pornographic for your kids, thinks she's owning Ron DeSantis
November 14, 2023
For reasons known only to Leftists, keeping porn out of school classrooms is considered "book banning." Even though, if you want to get your hands on these materials, Amazon can have them delivered to you in the afternoon. The latest is popstar P!nk, who is giving out copies of books banned in Florida at her Florida concerts.
"Banned in Florida." That's a key point we're going to circle back to.
The singer is teaming up with a left-wing organization and said in an Instagram post that she is unwilling to stand by and watch while books are "banned" by schools. "It's especially hateful to see authorities take aim at books about race and racism and against LGBTQ authors and those of color."
She's doing this in Florida because that's where presidential candidate Ron DeSantis opened up the "book banning" front in the culture wars. I put "book banning" in finger quotes because no books are being banned. Hence "independent" "fact" checkers changing the definition of "book banning."
"Mr. Old Fashion" DeSantis is of the belief if you as a parent feel your kid learning about tasting their vagina slime, the proper techniques of giving a "handy," or what a graphic play-by-play of two dudes f*cking looks like is crucial to their development, buy the book yourself. But it's inappropriate to have it in school libraries, let alone force the books on students.
I'll save you the trouble of clicking the view button.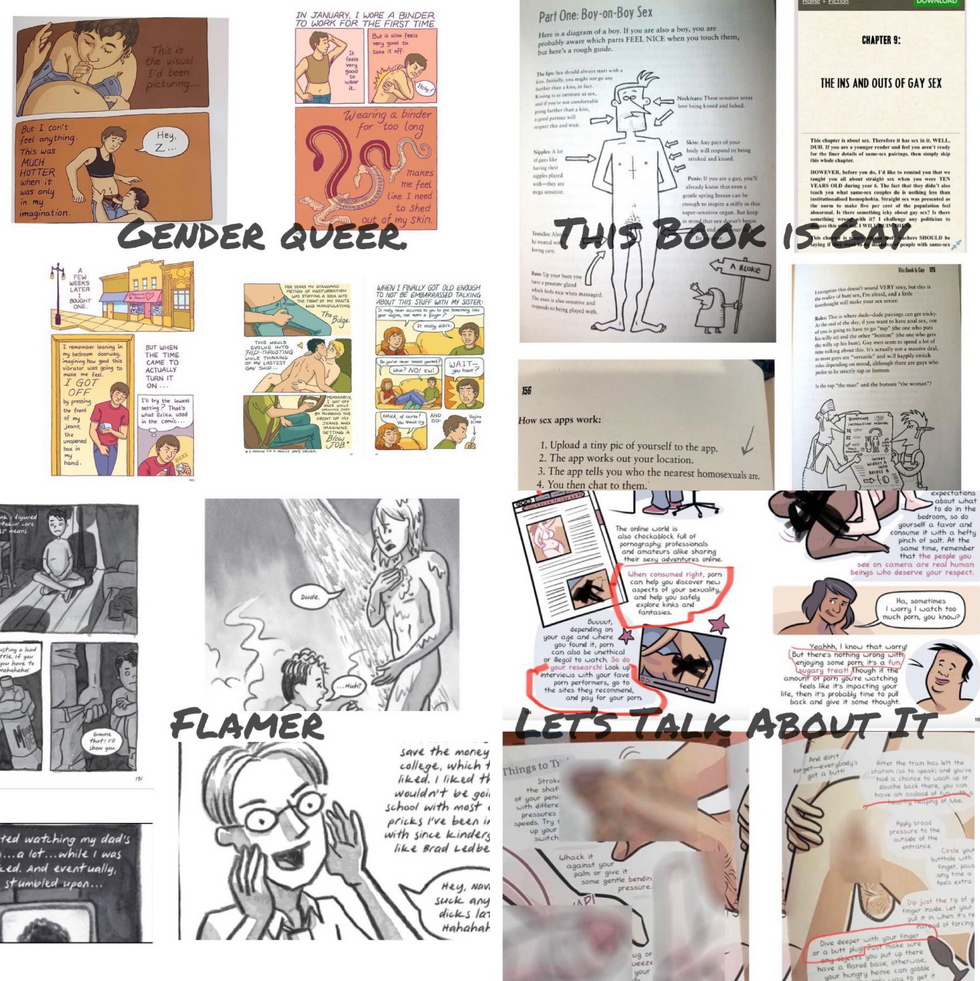 Here's where the scam comes in, and why I told you to remember the words "banned in Florida." According to P!nk, she isn't talking about pornography. She shared an X post listing a bunch of other books.
None of those books are banned in Florida, Sally. In the commie utopia of Washington State, where the media suddenly is ok with book banning, they are. In Germany, a woke daycare removed Anne Frank's name from the school. But the books P!nk listed are NOT banned in Florida, where she is giving out "banned" books.
This is the scam. This is the hustle. The Left wants you to equate "book banning" with classic works of literature. Ironically enough, works of literature the Left has wanted to be banned over the years.
They want you to think this is about Holden Caulfield being a foul-mouthed prick or Huckleberry Finn's friend Jim. And not "award-winning stories" that go into graphic detail about dudes passing around a soda bottle, ejaculating in it, and then the person who doesn't ejaculate gets to drink from the bottle filled with everyone else's... this is pushed on kids under the guise of teaching "tolerance."
P!nk is either a liar or a nincompoop who needs to stop watching MSNBC. It's either one or the other.
><><><><><><
Brodigan is Grand Poobah of this here website and when he isn't writing words about things enjoys day drinking, pro-wrestling, and country music. You can find him on the Twitter too.
Facebook doesn't want you reading this post or any others lately. Their algorithm hides our stories and shenanigans as best it can. The best way to stick it to Zuckerface? Sign up for our DAILY EMAIL BLASTS! They can't stop us from delivering our content straight to your inbox. Yet.