Each day we overwhelm your brains with the content you've come to love from the Louder with Crowder Dot Com website.
But Facebook is...you know, Facebook. Their algorithm hides our ranting and raving as best it can. The best way to stick it to Zuckerface?
Sign up for the LWC News Blast! Get your favorite right-wing commentary delivered directly to your inbox!
Culture Wars
NYC public school teacher praises Hamas, celebrates slaughter of women and children as "successful military campaign"
October 16, 2023
A New York City public school teacher is going viral for celebrating the Hamas terrorists who paraglided into a music festival and started killing people. Though I guess to be fair to Gotham Tech's Mohammad Jehad Ahmad, I'd be shocked if he was the only NYC teachers' union member who did.
Before we get to Mohammad, take a moment to listen to NYC Mayor Eric Adams in a rare moment of sanity (he has them on occasion). This line stood out: "We are not alright when right here in the city of New York, you have people who celebrate when at the same time the devastation is taking place in our city."
Ahmad was flagged for switching his Facebook profile picture to this graphic of a paraglider flying the Palestinian Flag. It is the same graphic that is being shared by the Black Lives Matter political organization that bougie white people were guilted into giving all their money to in 2020-21.
"But Brodigan, they are just sharing criticism of the Israeli government. Why can't people criticize the Israeli government?"
Yeah, eat a dick with that. When you share a photo of a paraglider flying your flag right after paragliders flying your flag paraglided into a concert and started raping a killing people, you aren't saying you disagree with the government of the people who are being raped and killed. Not unlike students at Harvard, you are saying you support the people who did the murdering and the raping.
"A successful military campaign" is what the NYC public school teacher called it when contacted by Fox News. This was after Mohammad Jehad Ahmad lashed out at people who expressed disapproval with the symbolism: "Look at this clown and the others in his replies. So-called 'Israel' is a settler colony that was invented and only continues to exist through terrorism, dispossession, ethnic cleansing, and ongoing incremental genocide. To support 'Israel' is to support white supremacist terror."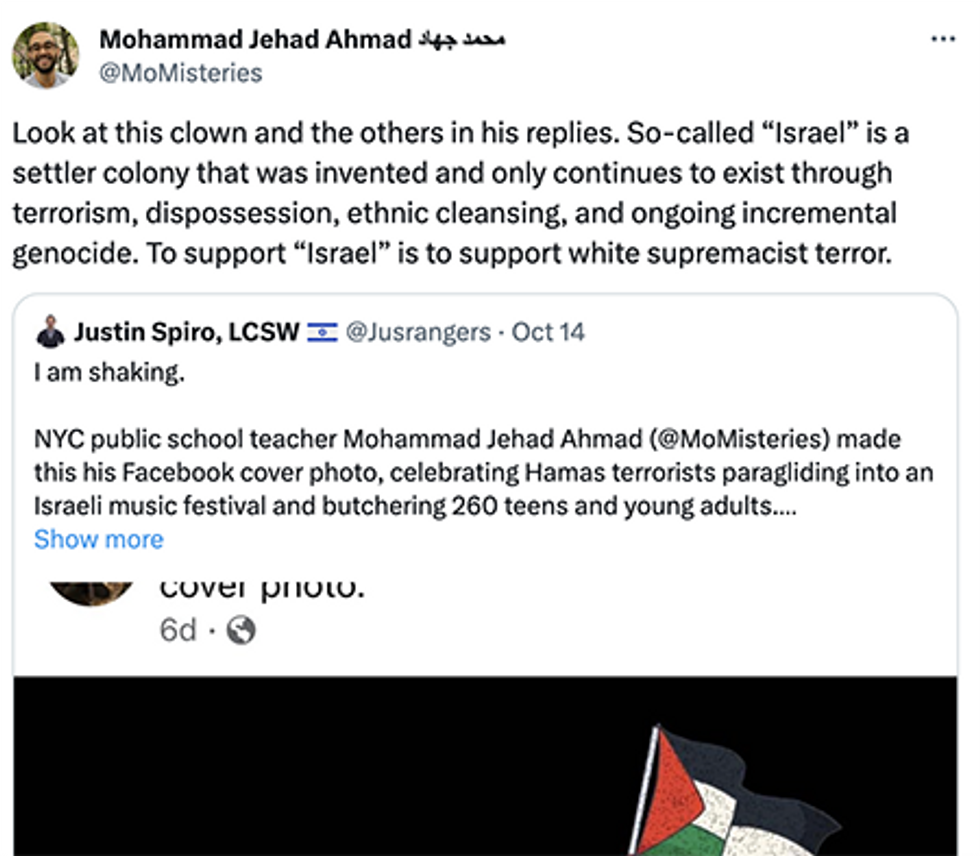 The school did not return Fox News's request for comment. Again, I would be surprised if this was the only public school teacher in New York City who supported Hamas. There is a, if you'll excuse the phrase, "come to Jesus" moment happening amongst some on the left realizing just how antisemitic the Democrat Party has become.
If members of the left are shocked at how this happened, they might want to look into who is teaching our children.
><><><><><><
Brodigan is Grand Poobah of this here website and when he isn't writing words about things enjoys day drinking, pro-wrestling, and country music. You can find him on the Twitter too.
Facebook doesn't want you reading this post or any others lately. Their algorithm hides our stories and shenanigans as best it can. The best way to stick it to Zuckerface? Sign up for our DAILY EMAIL BLASTS! They can't stop us from delivering our content straight to your inbox. Yet.