Each day we overwhelm your brains with the content you've come to love from the Louder with Crowder Dot Com website.
But Facebook is...you know, Facebook. Their algorithm hides our ranting and raving as best it can. The best way to stick it to Zuckerface?
Sign up for the LWC News Blast! Get your favorite right-wing commentary delivered directly to your inbox!
'Degenerate Gambler' Explains Why You Never Bet Against Trans Athletes
July 26, 2019
Please note the word COMEDY at the top of this page.
Ah, the brave new world of transgender athletics. AKA, boys competing in girls sports because they couldn't hack it as boys with predictable results of girls losing their dreams to male applause (see WATCH: Transgender Track Star Claims He's "Disadvantaged" Racing Against Girls and WATCH: Female Athletes Speak Out Against Transgender Athletes in Powerful Video). Sometimes it's girl versus girl, only one of the girls is hopped up on hormones as she transitions to a dude. Which she'll never be. In the olden days, we used to just refer to transgender athletics by its Latin name: cheating. But as this video from We The Internet shows, it's not just the girls the boys are beating.
This dude starts ripping through girls like he's Patrick Swayze in Roadhouse.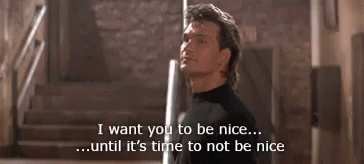 More like ripping through girls like he's Swayze in To Wong Foo, Thanks for Everything! Julie Newmar. Amirite?
No one ever thinks of the degenerate gamblers, people like Vinnie Boombats here. He sees an America that is passing him by. Finally, he has his opportunity to win a little money, turn his life around, get his piece of the American dream he so desperately believes is still a thing. Only to see that dream turn into a nightmare. Just because, in the name of all that is woke and binary, some athletes are allowed to compete in their cheater pants.
The next time you see a dude with a full beard blowing past girls in the 400m dash, please, if you're not going to consider the hard work, feelings, and lost dreams of female athletes, consider the hopes of the degenerate gamblers. Male gamblers.
The Louder with Crowder Dot Com Website is on Instagram now!Follow us at @lwcnewswire and tell a friend!