Each day we overwhelm your brains with the content you've come to love from the Louder with Crowder Dot Com website.
But Facebook is...you know, Facebook. Their algorithm hides our ranting and raving as best it can. The best way to stick it to Zuckerface?
Sign up for the LWC News Blast! Get your favorite right-wing commentary delivered directly to your inbox!
Morbidly obese shoplifter caught on video leading gang of thieves in slowest shoplifting imaginable
July 26, 2023
Quick getaway. When you steal or rob someone, you are supposed to make a QUICK getaway. You take the stolen merchandise and leave the scene of the crime as fast as possible. Therein lies the rub in this piece of content. The 400-pound behemoth of a woman was moving as fast as she could.
You may ask yourself, "Brodigan, how did someone that large get around unnoticeable enough to steal all that merch?" She and her gang of Berthas robbed a Burlington, which is owned by Bain Capital Partners. My guess is they were very noticeable. But, corporate zero-tolerance policies. Know what I mean?
Shout out to my man who saw these three units leaving the store and remembered to do it for the content: "Damn, look at these people stealing! Say hi to the camera!"

The Daily Mail is reporting that Instagram account @ppv_tahoe published the original video and mentioned besides being thieving chubbers, they parked their red Dodge Charger in the handicapped spot WITHOUT the proper tags. This leads us to the under $1,000 question. How does a woman with that big of a cottage cheese butt, who is so fat she has other fat women orbiting her like she is a planet who eats smaller planets, fit into a Dodge Charger? Unless there is a forklift coming to pick her up. It wouldn't be the first time we've seen a forklift take part in a robbery.
She's got the fattest ass, is what I'm saying.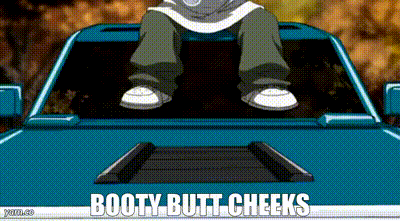 Police are reviewing the video, which provides a clear view of their faces and the license plate. No word on if the police plan on calling for backup from neighboring counties. This woman can be hungry and dangerous. I don't know how many tazer it'll take to put her down.
I just want the mugshot.
><><><><><><
Brodigan is Grand Poobah of this here website and when he isn't writing words about things enjoys day drinking, pro-wrestling, and country music. You can find him on the Twitter too.
Facebook doesn't want you reading this post or any others lately. Their algorithm hides our stories and shenanigans as best it can. The best way to stick it to Zuckerface? Sign up for our DAILY EMAIL BLASTS! They can't stop us from delivering our content straight to your inbox. Yet.