Each day we overwhelm your brains with the content you've come to love from the Louder with Crowder Dot Com website.
But Facebook is...you know, Facebook. Their algorithm hides our ranting and raving as best it can. The best way to stick it to Zuckerface?
Sign up for the LWC News Blast! Get your favorite right-wing commentary delivered directly to your inbox!
Articles
"Shoot him": Video captures anti-Israel mob swarming an elderly driver trying to escape as they block traffic
October 23, 2023
One of many anti-Israel protests over the weekend took place in Minneapolis. In a scene out of the 2020 riots, a mob of protesters blocking traffic terrorized a driver trying to escape in one piece.
Unclear is if these progressives were protesting in support of Hamas for raping, murdering, beheading, mutilating, and kidnapping Jewish and American women and children. Or if they were protesting against a combination of Israel's right to both respond and exist. However, I've got ten bucks that say the majority of the mob voted for Joe Biden.
Alpha News reports far-Left groups are attempting to push a narrative that the man was a counter-protester trying to run people over. We can neither confirm nor deny this to be true. This is just one writer's opinion, but judging by his appearance and the delivery bags in his passenger seat, he looks like an elderly man attempting to make a delivery or get home to his family with groceries.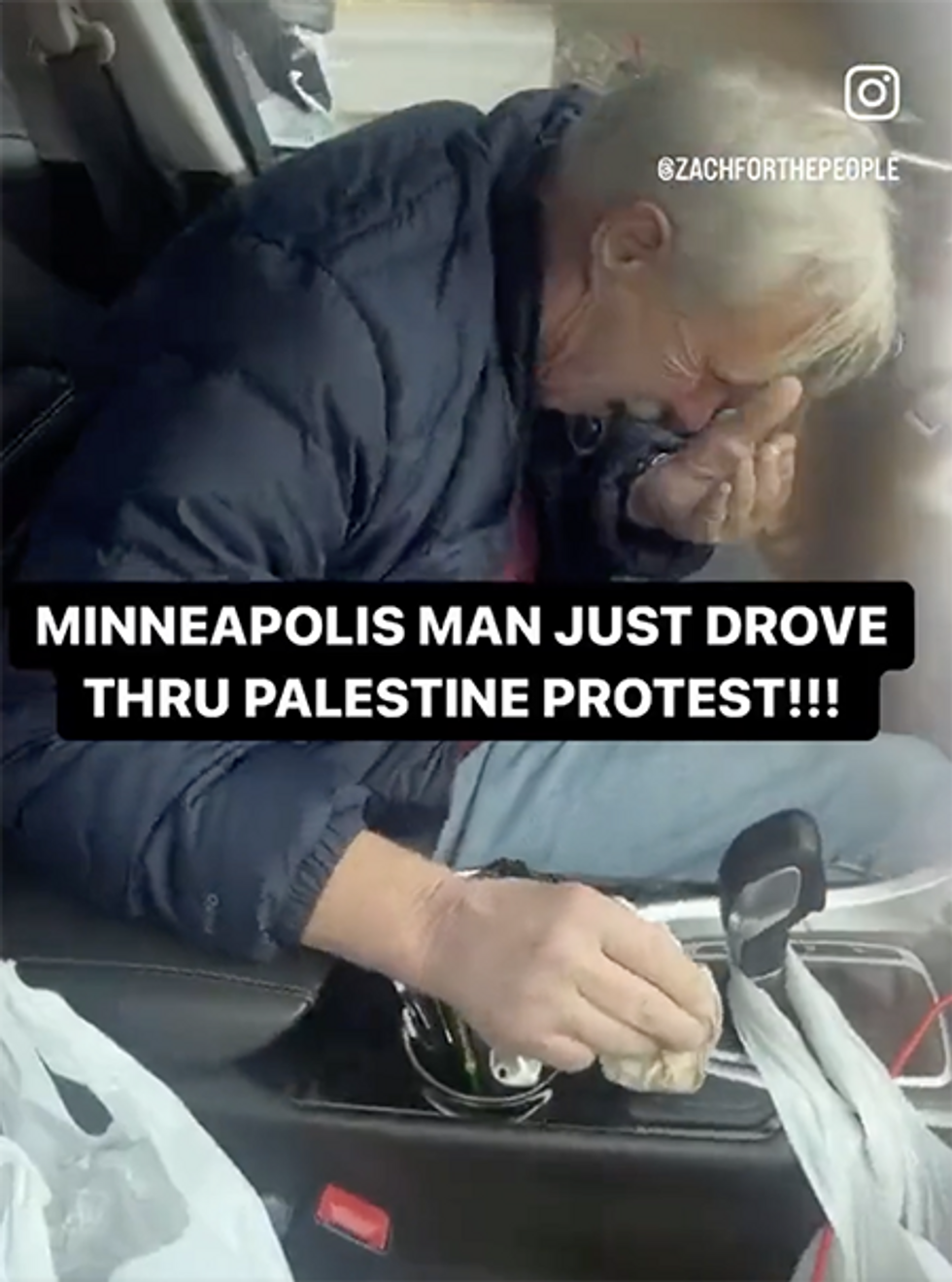 This video shows the angry mob swarming the man's car and trying to kick his windows in. He was lucky to get out in one piece.
Another video shows an ariel view of the man attempting to escape with some on-the-ground footage. There were reports of shots being fired. It is unclear if this is true, or if true, who fired a weapon. What is clear is the pro-Hamas protester at the end of this video yelling for the elderly man to be shot.
It was similar to a common scene we saw during the 2020 riots where progressive activists (also who, if we were to bet, voted for Joe Biden), would try to harm any driver who made a wrong turn while they were blocking traffic.
Protesters Block, Attack Truck and Horse Trailer, Driver Runs Them Over
Even More Rioters Attack a Driver in an SUV, and Even More Rioters Get Plowed
'Peaceful' Protesters Threatened a Prius Driver, but He Hit the Gas Instead
If you were wondering where the police were, Alpha News cites dispatch audio that "captured at least two Minneapolis police supervisors within 10 minutes instructing squads and officers to stay away from the area 'out of sight' even after the report of the vehicle driving through the protest and the report of alleged shots fired."
Also similar to 2020.
><><><><><><
Brodigan is Grand Poobah of this here website and when he isn't writing words about things enjoys day drinking, pro-wrestling, and country music. You can find him on the Twitter too.
Facebook doesn't want you reading this post or any others lately. Their algorithm hides our stories and shenanigans as best it can. The best way to stick it to Zuckerface? Sign up for our DAILY EMAIL BLASTS! They can't stop us from delivering our content straight to your inbox. Yet.