Each day we overwhelm your brains with the content you've come to love from the Louder with Crowder Dot Com website.
But Facebook is...you know, Facebook. Their algorithm hides our ranting and raving as best it can. The best way to stick it to Zuckerface?
Sign up for the LWC News Blast! Get your favorite right-wing commentary delivered directly to your inbox!
Watch: Beach Boys legend issues "warning" before singing gender-specific hit... in case the FBI or Bud Light was there
July 10, 2023
A little boomer humor to ease yourself into the work week. Shout out to Beach Boys founder Mike Love who is still on the road performing in his 70s. The singer took time out of a recent show to opine on current news and cultural events, before singing the classic "Surfer Girl." It was a return to the "girls and cars" period in pop music. Before globalists started to have cars outlawed, and the surfer girl came in second place behind the surfer used to be a boy.
It's unclear where or when this clip is from. Someone found it on a subreddit called "beachboyscirclejerk."
I'm a little concerned about doing [this next song ] on account of it's "gender specific. And I hope there's nobody from Budweiser here. Or the FBI.
A biting social commentary on two stories fans of the Louder with Crowder Dot Com website are familiar with. The first is Bud Light destroying itself after getting in bed with controversial titface performer Dylan Mulvaney. The other is the FBI wanting "to have a chat" with people who hold any opposing viewpoint from Joe Biden.
Not everyone found the joke funny.
This one is in response to a tweet from the one-hit wonder 90s band Eve 6. They are trying to reinvent themselves as progressive edgelords. Their tweet has been deleted. I'm guessing when it comes to who is more relevant -- a founder of the beach boys or the band that sang "Inside to the Night" -- the band began to feel inadequate.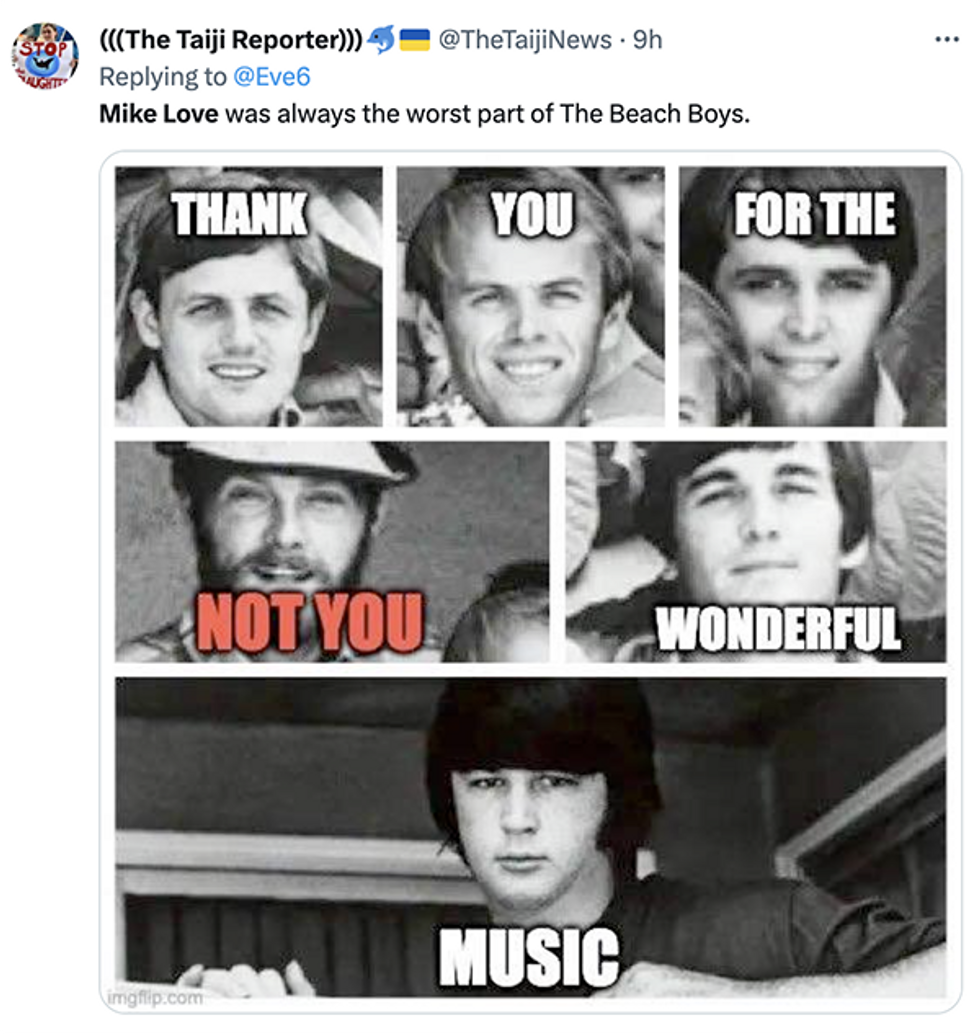 "Surfer Girl" was released in 1963, and was the first song another Beach Boys founder, Brian Wilson, ever wrote. Then Wilson started to go insane and brother Dennis Wilson got involved with Charles Manson. Love remained all about the chicks.
The song harkens back to the good ol' days. A bygone era when girls were girls and boys were boys and there was a pleasant lack of confusion in between. When I say a bygone era, I mean around 2020 or so.
What can you say? Mike Love just wasn't made for these times.
><><><><><><
Brodigan is Grand Poobah of this here website and when he isn't writing words about things enjoys day drinking, pro-wrestling, and country music. You can find him on the Twitter too.
Facebook doesn't want you reading this post or any others lately. Their algorithm hides our stories and shenanigans as best it can. The best way to stick it to Zuckerface? Sign up for our DAILY EMAIL BLASTS! They can't stop us from delivering our content straight to your inbox. Yet.