Each day we overwhelm your brains with the content you've come to love from the Louder with Crowder Dot Com website.
But Facebook is...you know, Facebook. Their algorithm hides our ranting and raving as best it can. The best way to stick it to Zuckerface?
Sign up for the LWC News Blast! Get your favorite right-wing commentary delivered directly to your inbox!
Articles
Lunatic Michael Moore Compares Trump Supporters to... Racist Rapists?!
August 16, 2017
Michael Moore. He's one of our favorite punching bags. And that's not a fat-shaming joke, it's about his intellect. Or lack thereof (see Pro-Hillary Michael Moore PANICS: "Don't Trust Anti-Trump Polls!" and Seven FACTUAL Reasons Michael Moore is an Ignorant Ass!). The Moore Man has difficulty producing coherent thoughts. As he clearly has converting adipose tissue into useful energy. But maybe those are the breaks when one closely resembles a lesbian who ate a pool float.
Michael's latest antics involve calling Trump supporters racist rapists. Yes, really. Enjoy the awkwardness.
Michael: If you vote for a racist, what are you then? Because it sure sounds like racism to me... He's absolutely a racist.

Anchor: Well, not all Trump supporters are racist, and they take offense to people calling them racist.

Michael: If you hold down the woman while the rapist is raping her, and you didn't rape her, are you a rapist?

Anchor: That's a very powerful and uncomfortable anecdote you shared and people will think that you're comparing Trump voters to... rapists.

Michael: The white people watching this, the two-thirds of the white men of this country who wanted Donald Trump and voted for him as president, you are going to have to take a long hard look in the mirror, right now.

Anchor: I think you have to own your own words, and I think Donald Trump also is responsible for his words as well. I understand what you're saying, but it's also an uncomfortable comparison, and sitting here listening, it's tough.
That was uncomfortable. So said Don Lemon, but possibly as a way to cover his own ass. Allegedly.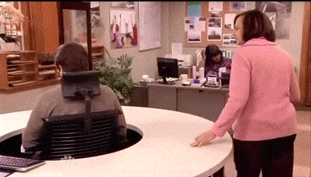 Of course, Michael is entitled to his own opinions. Insane as they are. But compare this version of Jabba de Moore to Michael Mooron in the past. Here are his thought children from times gone by:
Because I know a lot of people in Michigan who are planning to vote for Trump... They don't necessarily like him that much and they don't necessarily agree with him. They're not racists and rednecks, they're actually pretty decent people.
Which version of Michael Moore was right? Well, one version had him humbled, incredulous at the media's obvious disconnect with the American people. And one version of Michael (the most recent) is full of pride-swallowing rage after some white supremacists raided their local hardware store for insect repelling torches to march on Charlottesville. Also, at least one of those white supremacists went seven steps too far and mowed a woman down, killing her. So some rage is warranted. Okay? Okay.
Leftists have a tendency to speak out of both ends of their flapping face holes. Moore is no different. After the election, he seemed cogent in trying to school the entitled media in where they went wrong. Today, Michael Moore has all the intellectual prowess of a jelly donut. Without the delectable appeal. Squirting his guilt by association idiocy all over the internet. But remember, though all white people are racist rapists, not all Muslims are terrorists!
That's leftists for you.
Now enjoy this throwback of Michael Moore a decade ago. He hasn't aged well.
~Co-written by Nichole Cooper and Courtney Kirchoff
NOT SUBSCRIBED TO THE PODCAST? FIX THAT! IT'S COMPLETELY FREE ON BOTH ITUNES HERE AND SOUNDCLOUD HERE.