WATCH: Senator Gillibrand Gets Roasted Over #MeToo Hypocrisy by Meghan McCain
January 29, 2018
The View isn't a particularly digestible piece of daily media (see 'The View' Hags Up Their Stupid: Not Giving Free Birth Control is Like the Taliban… and 'The View' Harpies Screech Over Russian Election Hacking. Condoleezza Rice Explains Why They're Wrong…). So as a disclaimer: The View is still a pile of overly-lipsticked suckage. Mind constipation caused by stale, repetitive commentary makes unsuspecting brains feel bloated. But a new host on the loud-lady panel has been tearing up guests with tough questions.
Behold Meghan McCain, the lady who's not afraid to condemn the panel's "truth" in the light of the truth.
MEGHAN: You are a long time supporter of Hillary Clinton and consider her a mentor. Do you think her response this weekend was appropriate?

GILLIBRAND: Well, a-a-a-as you know these things need to be dealt with whether you're a Democrat whether you're a Republican, we need transparency, accountability. And no one is above criticism. Um, but in that case, I don't know all the details. I don't know if the punishment she chose was the right punishment.

MEGAN: But, wow, senator, you have dedicated your political career to this fight, obviously, and that's why a lot of people were really surprised it took you twenty years to say that Bill Clinton should have resigned over the Lewinsky scandal. So what do you say to that?

GILLIBRAND: I think this moment of time we're in is very different. I don't think we had the same conversation back then, the same lense. We didn't hold people accountable in the same way that this moment is demanding today. I think all of us, or many of us, did not have that same lense, myself included.
In other words, standing up for abused women wasn't cool back then. It wasn't a trend. Like hashtags. Uggs. Pumpkin spice lattes. Protecting women didn't automatically grant one #woke points. So it was alright to tap non-consenting booties.
Senator Gillibrand is the perfect embodiment of today's political hipsterdom. Once a trend is popping, the left is donning it. #MeToo is the hottest way to gain fans and clout. Yet just a decade ago, it wasn't a priority.
This proves Democrats and celebrities don't really care about survivors of sexual harassment and assault. Those people are just props to the left. They care about gaining attention built on whatever social media fad is happening at the moment.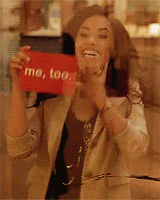 Politicians and celebrities attempt to bury their agendas under hashtags and virtue signaling. But their tendencies toward pedophilia and sexual assault aren't so hidden:
NOT SUBSCRIBED TO THE PODCAST? FIX THAT! IT'S COMPLETELY FREE ON BOTH ITUNES HERE AND SOUNDCLOUD HERE.