Each day we overwhelm your brains with the content you've come to love from the Louder with Crowder Dot Com website.
But Facebook is...you know, Facebook. Their algorithm hides our ranting and raving as best it can. The best way to stick it to Zuckerface?
Sign up for the LWC News Blast! Get your favorite right-wing commentary delivered directly to your inbox!
Hollywood
Watch: Oscar winner does unthinkable (for Hollywood) and praises the American Dream in emotional speech
March 13, 2023
There was no doubt plenty of leftist political bullplop on last night's Oscars. It's Hollywood and DNC flak Jimmy Kimmel was the host. Though like many of you, I didn't watch last night and am allowing Twitter to tell me what I missed. Two things stand out. The lack of onstage assault. And an actor acknowledging that the American Dream exists, let alone praising it. Ke Huy Quan, who won Best Supporting Actor.
Huy Quan was in Goonies and Indiana Jones. Then he fell off for a few decades. His big comeback with Everything Everywhere All At Once was the culmination of a journey that started on a boat.
"My journey started on a boat. I spent a year in a refugee camp, and somehow, I ended up here, on Hollywood's biggest stage. They say stories like this only happen in the movies. I cannot believe it's happening to me. This...this is the American dream!"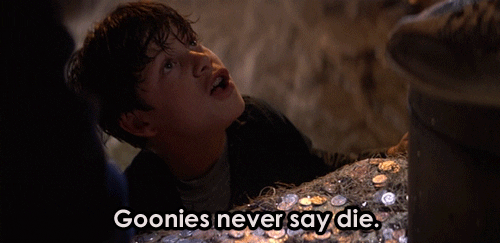 Huy Quan wrapped up by saying, "Dreams are something you have to believe in. I almost gave up on mine. To all of you out there, please keep your dreams alive."
My love and knowledge of current movies fell off during the pandemic. After they stopped being produced for a while, I stopped paying attention and nothing has brought me back. I couldn't tell you what Everything Everywhere All At Once is about. Even before the pandemic, I couldn't tell you what most Oscar-nominated movies were about either.
Goonies, on the other hand, remains one of the greatest pieces of cinema ever filmed. Besides the rarity of a Hollywood celebrity praising our country, it's an excuse to share this incredible story. Jeff Cohen, who played Chunk on Goonies with Huy Quan, is now his entertainment lawyer and did the deal that led to the Oscar-winning role.
Ke Huy Quan revealing that Jeff Cohen (Chunk from the Goonies) is now his entertainment lawyer and did his deal for EEAAO makes the Ke Huy Quan comeback story that much sweeter pic.twitter.com/74Golay1CL
— Andy Compton (@andycompton_) January 10, 2023
Congratulations to Ke Huy Quan. Thank you for sharing your story of the American Dream so that others can return to believing in it themselves.
Editor's Note:
It's official. MugClub. Is. Back.
Everyone here at the team is thrilled to inform you that MugClub relaunches on March 20, 2023. It is bigger, it is better, it is more affordable, it will include MORE content than ever AND it's powered by Rumble!
Did I mention that the annual price has been lowered from $99 to $89?