Each day we overwhelm your brains with the content you've come to love from the Louder with Crowder Dot Com website.
But Facebook is...you know, Facebook. Their algorithm hides our ranting and raving as best it can. The best way to stick it to Zuckerface?
Sign up for the LWC News Blast! Get your favorite right-wing commentary delivered directly to your inbox!
Liberal Media
Joy Reid: Trump Violates First Amendment by Criticizing the Media
March 25, 2019
With the Russia investigation being a colossal dud, lefties are looking hard for any reason to oust Trump. Unfortunately for said lefties, they're coming up shorter than Danny DeVito slouching. Case in point, Joy Reid is trying to impeach Trump for criticizing the media. She's claiming it's a violation of the First Amendment.
For reals:
Things like obstruction of justice, whether or not it's criminally provable, or collusion which is not technically a crime on the books, violating the emoluments clause, which is not clear what the enforcement mechanism is. Pay for play: basically people checking into his hotels, swiping a card, foreign leaders doing that. Abuse of power.

Attacking the media, which isn't a crime but it's a violation of the First Amendment in a lot of ways. Attacking the investigations. Campaign finance laws, corruption, promising pardons, influencing the 2016 election. All of that kind of stuff. Is that something we might expect to be explained in the Mueller report?
Yep, according to Joy Reid, the First Amendment is all about protecting media tenderhearts' feelings.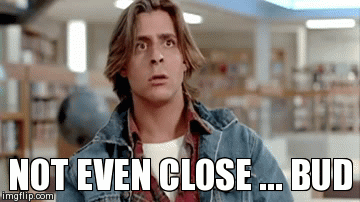 Joy here seems to have some deep misunderstandings about Amendment Uno. Nowhere in the Constitution does it give the media protection from hurt feelings. Actually, the amendment protects Trump's right to call out the leftist media for being a bunch of disingenuous douchenozzles.
Joy Reid might have a point  if the day were to come when Trumpy passes an executive order to relieve the dingbat from her job. Though, it's hardly free speech infringement when the Donald puts out a tweet saying "MSNBC sucks."
Nobody, not even the media, is immune from having their bullhickey called out. If the peeps over at MSNBC want Trumpy to stop calling them liars, maybe they should stop lying. Just saying.
NOT SUBSCRIBED TO THE PODCAST? FIX THAT! IT'S COMPLETELY FREE ON BOTH ITUNES HERE AND SOUNDCLOUD HERE.