Each day we overwhelm your brains with the content you've come to love from the Louder with Crowder Dot Com website.
But Facebook is...you know, Facebook. Their algorithm hides our ranting and raving as best it can. The best way to stick it to Zuckerface?
Sign up for the LWC News Blast! Get your favorite right-wing commentary delivered directly to your inbox!
Reporter busts Joe Biden engaging in mask theatre hours after WH virtue signaling he was going to wear one indoors again
September 06, 2023
VOTE IN THE LWC 2024 GOP STRAW POLL! CLICK HERE!
When Anthony Fauci was on CNN this weekend, he was concerned that IF -- and only IF (wink wink, nudge nudge) -- they had to institute a mask mandate like they did when President Donald Trump ceded control to Fauci during the lockdowns, Americans won't listen to the CDC. Part of that has to do with Americans knowing masks are ineffective. Part of that has to do with two years of watching our leaders engage in "mask theater" where there were rules for us and rules for them. No one was more confused than Joe Biden.
The president set a world record for mask theater on Tuesday. Jill Biden caught SCHMOVID again. Yes, even with all her shots. The White House claimed, as a result, that Joe Biden was going to wear a mask indoors to set an example for everyone. Yet less than a few hours later...
The same Joe Biden who was obsessed with masking up first graders and who didn't follow his own mask orders, broke those mask orders in record time. Or, to be fair to our elderly president, he might have gotten confused by what the rules were. The White House may not have told him that he has to wear a mask again. They were too focused on telling him not to walk off stage before the Medal of Honor ceremony was over. Something else he screwed up.
In this case, I'm willing to give Joe Biden the benefit of the doubt. He is old and gets confused. When it comes to masks, he can't even figure out when to wear one. Should he wear one on an empty beach?
When he is with his friends?
Or my personal favorite, on a Zoom call with other world leaders. When he was the ONLY world leader to be wearing one.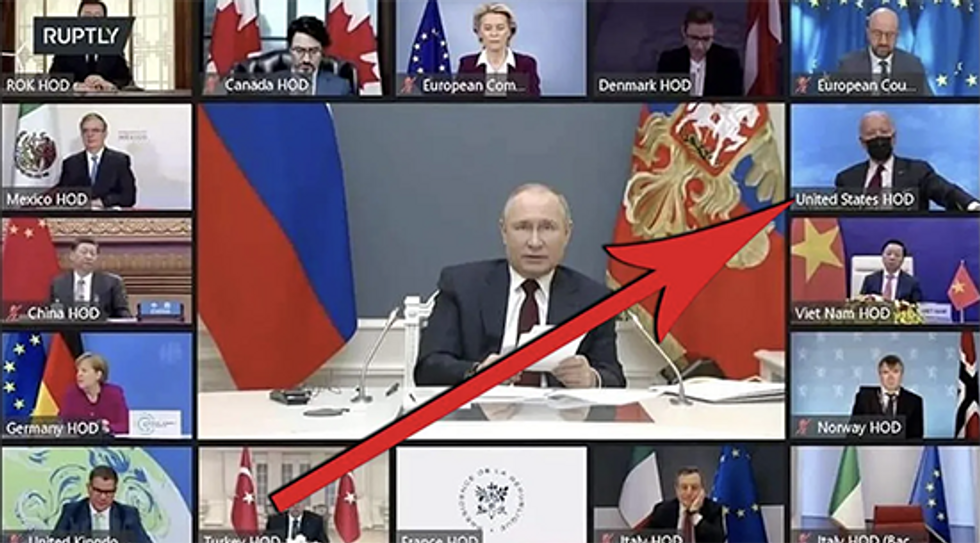 Universal mask mandates are bootycheeks. Hashtag will not comply. Though, much like videos of watching mask nazis having meltdowns in supermarkets, seeing our clueless president not knowing when or when not to engage in mask theater is great for content. It also provides a helpful contrast when it comes to electing a president next year.
><><><><><><
Brodigan is Grand Poobah of this here website and when he isn't writing words about things enjoys day drinking, pro-wrestling, and country music. You can find him on the Twitter too.
Facebook doesn't want you reading this post or any others lately. Their algorithm hides our stories and shenanigans as best it can. The best way to stick it to Zuckerface? Sign up for our DAILY EMAIL BLASTS! They can't stop us from delivering our content straight to your inbox. Yet.