WATCH: Trump's Doctors Report Perfect Health. CNN's Jim Acosta Says 'Conspiracy!'
January 17, 2018
CNN has an unhealthy obsession with the Trumpster. From his dietary habits to things that look or sound like him, CNN is the creepy boy next door collecting weird souvenirs (see CNN Wastes 3 Minute Segment on Trump and Diet Coke [Video] and Serious News: CNN Runs Story on Dog's Ear that Looks Like Trump). During a press conference concerning Trump's health, Jim Acosta grilled the White House doctor over a firepit of conspiracy theories.
Acosta should bring a tin foil hat to the White House next time. I heard they can read your mind.
One question. There isn't anything that's part of the president's health records or his overall physical fitness or any medications that he's taking that you're not permitted to tell us? Is there anything you're keeping from us for privacy reasons?

Jackson assured Acosta that there was no information about Trump's health being withheld, negative or otherwise.

I can promise there is nothing that I am withholding from you. I can tell you, I've done the last four or five of these. I've been involved in probably the last six or seven of these and this is hands down more information that has been put forth by any other assessment to date.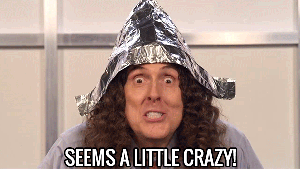 That tall, smart man is probably lying. It's the southern accent. Fact is, CNN doesn't like facts. When they find a story distasteful, they make something up. Unfortunately for them, this story was too high profile to misconstrue with news fakery.
CNN should spend more time boosting their viewership. Stop putting people on payroll to watch Trump golf (see WATCH: Truck Blocks CNN From Stalking Trump, They Hysterically Pretend It's Serious News). Hang a rope around their cameras and throw them off a bridge. Overmedicate their producers with Xanax. Anything to keep me from gouging my eyes with a rolled up cable bill.
Did you watch our 16-hour CNN live stream? No? Have no fear, you can waste your day with pain and suffering below.
NOT SUBSCRIBED TO THE PODCAST? FIX THAT! IT'S COMPLETELY FREE ON BOTH ITUNES HERE AND SOUNDCLOUD HERE.