Each day we overwhelm your brains with the content you've come to love from the Louder with Crowder Dot Com website.
But Facebook is...you know, Facebook. Their algorithm hides our ranting and raving as best it can. The best way to stick it to Zuckerface?
Sign up for the LWC News Blast! Get your favorite right-wing commentary delivered directly to your inbox!
Culture Wars
Defiant Jason Aldean surprises restaurant with acoustic performance of anti-woke anthem "Try That in A Small Town"
August 05, 2023
Leftists have lost their touch cancelling people. Roseanne Barr is getting a new show. And their outrage over a video critical of their agenda has given Jason Aldean the #1 song in America. The artist surprised a restaurant in Tennessee with a live, acoustic performance.
Quick side note, since it deals with who the cancelers are. Once you are done here, check out David Brooks' piece "What if we're the bad guys here?" It's the elitist equivalence of this: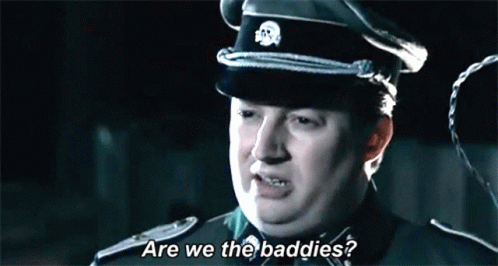 Aldean appeared for the grand opening of his new "Jason Aldean's Kitchen and Rooftop Bar" in the Smoky Mountains of Tennessee. It's his second restaurant after his popular spot on Broadway in Nashville. There was a stage. The stage had instruments. And there were players. It made sense for Aldean to surprise the crowd with a 35-minute acoustic performance of hits.
And what song is you wanna hear?
Sucker punch somebody on a sidewalk,
Carjack an old lady at a red light,
Pull a gun on the owner of a liquor store,
Ya think it's cool, well, act a fool if ya like],
Cuss out a cop, spit in his face,
Stomp on the flag and light it up,
Yeah, ya think you're tough,
Well, try that in a small town,
See how far ya make it down the road,
Around here, we take care of our own...
At this point, it's like the Bud Light thing where we write about it for the fun of reveling in the schadenfreude of it all. With "Small Town," woke progressive sh*tc*nts were defeated in record time. They went from creating "cancel Aldean" content to trying to libsplain it all way.

Yes. A country artist "cynically" built a country song to appeal... to country music fans. You got him there, Skippy.
And that's when the Left isn't trying to take credit for his success.

They're talking about Aldean, Morgan Wallen's "Last Night" and Luke Combs' "Fast Car." In all three, either the artist or the song was the target of some ridiculous woke outrage or another. Turns out that the more the Left hates something, the more Americans love it. Either that or Americans just want to enjoy good music. That the side that doesn't want to let them do so keeps losing is a pleasant side effect.
That's why I suggested the Brooks column. Here's the archive link to get around NYT's playground. They've almost got it figured out.
><><><><><><
Brodigan is Grand Poobah of this here website and when he isn't writing words about things enjoys day drinking, pro-wrestling, and country music. You can find him on the Twitter too.
Facebook doesn't want you reading this post or any others lately. Their algorithm hides our stories and shenanigans as best it can. The best way to stick it to Zuckerface? Sign up for our DAILY EMAIL BLASTS! They can't stop us from delivering our content straight to your inbox. Yet.