Jalen Hurts shares powerful message to junior reporter on "lessons learned" in soul-crushing Super Bowl loss
February 14, 2023
The worst part about being the QB on the wrong end of a soul-crushing Super Bowl loss is then having to talk to reporters about losing. Jalen Hurts led the Eagles to a two-score lead going into the half as the Chiefs looked like they forgot how to play football. Then Patrick Mahomes remembered "I'm Patrick Mahomes, dammit" and the Eagles lost 38-35. Some say it was a questionable holding call that led the Chiefs to victory. Others like LwC Senior Foreign Policy Correspondent Lane Kendall say I'm just being bitter about the Bills.
After the loss, Jalen Hurts proved what kind of a competitor and a man he is. Fifteen-year-old podcaster Giovanni, Hurts' #1 fan, asked Jalen what lesson he'll take from the loss. The QB's response was powerful.
Hurts told the young podcaster, "Obviously, we had a big-time goal we wanted to accomplish and we came up short. I think the beautiful part about it is everyone experiences different pains, experiences different agonies of life. But, you decide if you want to learn from it. You decide if you want it to be a teachable moment and I know what I want to do."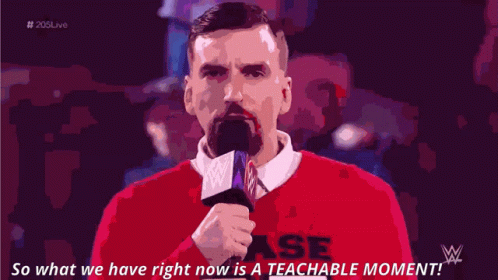 Strong words that I pray all young competitors and athletes take to heart. "It doesn't matter if you win or lose, it's how you play the game" is bootycheeks. Of course, it matters if you win. Otherwise, there is no point in playing the game. If it doesn't matter if you win or lose, you're the loser.
However, there is something to say about how you are either winning or you are learning. There is no shame in losing, as long as you leave it all out on the field. Someone has to lose. This time, it was the Philadelphia Eagles. But what lessons do you take from that loss that you then apply to make sure the next time you're the one winning? That's how champions are made.
Cheers to Jalen Hurts, who I'm sure wanted to be anywhere else, taking the time to share that message with his young fans watching. The amazing thing is those fans get to spend the next fifteen years or so so watch Hurts applying those lessons and being the one holding the Lombardi trophy while some other QB is stuck in the press conference.
Editor's Note
LwC is on Substack now! Each day we overwhelm your brains with the content you've come to love from the Louder with Crowder Dot Com website.. but algorithms hide our ranting and raving as best they can. The best way to stick it to Big Tech? Subscribe to For the Content!
Crowder's World Cup HOT Take! | Louder With Crowderyoutu.be