Each day we overwhelm your brains with the content you've come to love from the Louder with Crowder Dot Com website.
But Facebook is...you know, Facebook. Their algorithm hides our ranting and raving as best it can. The best way to stick it to Zuckerface?
Sign up for the LWC News Blast! Get your favorite right-wing commentary delivered directly to your inbox!
Culture
The end of hookup culture? Dating app survey says singles are looking for more
August 31, 2022
So, finally, a little bit of good news we can attribute to younger people! It doesn't happen often, so let's all take a moment to give the nearest Gen Zer a pat on the head and a thumbs up.
According to a survey from the online dating app Hinge, dating preferences and behaviors, particularly those of Gen Zers, have changed, rejecting hookup culture and focusing on long-term romantic relationships with "someone with whom they share a deeper connection."
Some of the statistics, derived from a survey of Hinge app users, look rather promising:
45% of users have changed their dating habits
39% report being pickier about their partner
91% say they don't want to waste their time on the wrong person
The
New York Post
reports that "many Hinge users reported they had learned to be more honest about their feelings."
Now, I'm not going to recommend it to everyone--because I have actually received some angry messages for it--but I used Hinge, and having something like this on my profile managed to weed out MANY of the, how should I say, bad apples.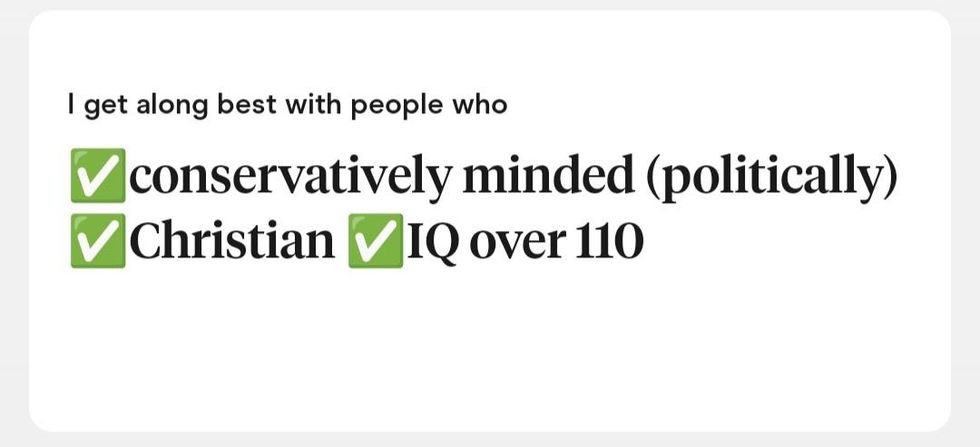 And yes, it worked. She's great. And stay away from her, she's taken. Obviously.
Hey, far be it for me to tell people how to go about dating, but I hope that the data from the survey is evidence of a trend that will only continue. Nothing good has come out of the left's push for sexual liberation, and there's something to be said about pursuing only a healthy, fulfilling, and fruitful relationship with a person with whom one can actually see a future. That's a good thing. It's what everyone should be looking for.
The Louder with Crowder Dot Com Website is on Instagram now!Follow us at @lwcnewswire and tell a friend!
Psych Major Thinks "The Masses" Should Regulate Speech... | Change My Mind Clipswww.youtube.com