Each day we overwhelm your brains with the content you've come to love from the Louder with Crowder Dot Com website.
But Facebook is...you know, Facebook. Their algorithm hides our ranting and raving as best it can. The best way to stick it to Zuckerface?
Sign up for the LWC News Blast! Get your favorite right-wing commentary delivered directly to your inbox!
TRUE LOVE: This Gun Range Wedding Proposal Will Make Your Day
February 20, 2019
Question of the Day: Do you agree that Gun Range Proposal would make an awesome Hallmark Channel movie? Because just when you're ready to give up on love, there are stories like this to warm your heart. Give you the warm fuzzies. Maybe make you update your Tinder profile.
But seriously, fellas. If you have yourself a girl who would find this romantic, you go wife her up right now!
According to a Facebook post by Reloaderz NJ, the staff helped Jake Woodruff pop the question to his girlfriend Kara Crampton.

In a video, Crampton is fixated on a standard target when a worker gives the signal to turn it around. On the other side of the target is the proposal: "Will you marry me?" and the targets for "yes" and "no" options.

Crampton, though, didn't take aim, opting to turn to find Woodruff on one knee holding an engagement ring.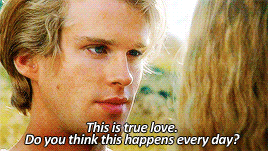 My only complaint was the crying. Instead of exploding the partition where it said "yes." Missed opportunity there.
Either way, a lot of our gun-related stories are about leftists wanting to strip us of our God-given rights (see 'Think Progress' Uses Romaine Lettuce Recall to Push Gun Control and NOT PARODY: Democrat Candidate Pepper-Sprays Himself for Gun Control). It's good to see a story like this that has your feels in its sites.
Dare I say it, this is the greatest love I've ever known.