Each day we overwhelm your brains with the content you've come to love from the Louder with Crowder Dot Com website.
But Facebook is...you know, Facebook. Their algorithm hides our ranting and raving as best it can. The best way to stick it to Zuckerface?
Sign up for the LWC News Blast! Get your favorite right-wing commentary delivered directly to your inbox!
Rep. Elissa Slotkin Tells Constituents She's Voting to Impeach. The Boos are Deafening.
December 17, 2019
Representative Elissa Slotkin is a Democrat for Michigan's 8th District. She recently told her constituents she's supporting impeachment efforts against Donald Trump. Donald Trump, by the way, won her district in 2016. Perhaps that's why the residents of the 8th District weren't shy in expressing their displeasure by way of deafening boos.
"We don't all agree. I knew from the very beginning this was going to be a controversial opinion..."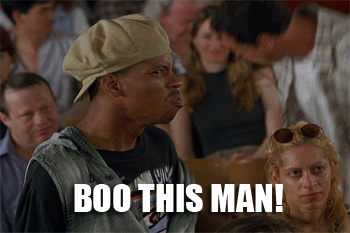 It's a controversial opinion because why are they voting to impeach Trump this time? Seriously, I'm asking. What's the reason they're citing now? I know the Ukraine phone call plan collapsed like a folding chair Lizzo used as an impromptu dancing platform. The Russian prostitute golden shower dossier is nothing but a cooked up smear courtesy of the DNC and Hillary Clinton who promises she's not ever had lesbian fantasies not once. The latest on the IG Report spelled doom and gloom for everyone involved in that dossier, especially the FBI and Department of Justice.
Meanwhile, Trump has done what thing illegally? Seriously, I'm asking.
Also seriously asking are the people of Michigan who voted for Trump. One of their representatives seems more interested in playing politics than representing voters. I know this might be hard to believe, but our congressmen and ladies are supposed to represent our interests. Not play politics. Perhaps Ms. Slotkin will be reminded in November 2020.
NOT SUBSCRIBED TO THE PODCAST? FIX THAT! IT'S COMPLETELY FREE ON BOTH ITUNES HERE AND SOUNDCLOUD HERE.