Each day we overwhelm your brains with the content you've come to love from the Louder with Crowder Dot Com website.
But Facebook is...you know, Facebook. Their algorithm hides our ranting and raving as best it can. The best way to stick it to Zuckerface?
Sign up for the LWC News Blast! Get your favorite right-wing commentary delivered directly to your inbox!
Politics
Democrat Congressmen Warn Alexandria Ocasio-Cortez Against Defying Them
January 12, 2019
Welp, it's time for your daily dose of Alexandria Ocasio-Cortez news. I don't have to tell you Congresswoman Nina-Pinta is a polarizing figure. What you might not realize however is just how polarizing she is in her own party.
Some of Crazy Cortez's flapping of the jaws is being aimed in the direction of her fellow leftists. Democrat congressmen are starting to warn her against this airheaded course of action.
Alexandria Ocasio-Cortez is already making enemies in the House Democratic Caucus — and some of its members are mounting an operation to bring the anti-establishment, democratic socialist with 2.2 million Twitter followers into the fold.

The effort, described by nearly 20 lawmakers and aides, is part carrot, part stick: Some lawmakers with ties to Ocasio-Cortez are hoping to coax her into using her star power to unite Democrats and turn her fire on Republicans. Others simultaneously warn Ocasio-Cortez is destined for a lonely, ineffectual career in Congress if she continues to treat her own party as the enemy.

"I'm sure Ms. Cortez means well, but there's almost an outstanding rule: Don't attack your own people," said Rep. Emanuel Cleaver (D-Mo.). "We just don't need sniping in our Democratic Caucus."
Uh-oh. Little Alex is running afoul of the big kids.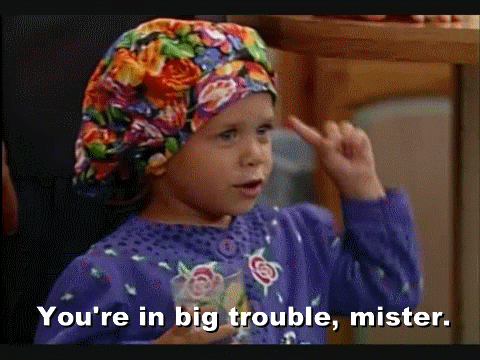 Little Alex isn't going to go very far in politics so long as she keeps approaching every bridge with kerosene and a book of matches. Her fellow Democrat congressmen are trying to warn her before she ends up by her lonesome. A solitary left-wing ninnymuggins forced to go solo at picking America's pocket. Sad.
I guess Alexandria is so desperate to hear the sound of her own voice, she doesn't bother to think her words through. This is made evident by her factless rants about unemployment. The government's "chambers." Not to mention her ambivalence toward facts themselves.
There's a fracture growing in the Democrat party between the classical big government douchenuggets and crazy-eyed commie loons. The junkies with an insatiable craving for other people's money. Right in the middle of the fracture is our sweet Oreo-Corvette. Holding a jackhammer and trying to find the "on" switch.
Speaking of 'ol crazy-eyes:
NOT SUBSCRIBED TO THE PODCAST? FIX THAT! IT'S COMPLETELY FREE ON BOTH ITUNES HERE AND SOUNDCLOUD HERE.