"Did that motherf***er pay extra?" A man's hilarious meltdown over a crying baby causes everyone else to be deplaned
April 19, 2023
Maybe I've lucked out in my twenty-five years of flying. I've never been stuck in an airplane with a baby crying. I also always have my headphones on because listening to everyone's inane conversations around me is every bit as annoying as a wee one who needs a binky. Personally, I can't relate to this man. Without having all the details and context available, I'm going to call this a gross overreaction to a baby crying on an airplane.
A gross HILARIOUS overreaction to a baby.
The crying baby (which sounds more like a toddler than a baby-baby) magically stops crying halfway through this man's rant which leads me to believe the people they were traveling with could've done more to meet whatever need they were expressing.

40-45 minutes is excessive. pic.twitter.com/af2xsIDF3g
— I ❤️ Jews, Please dont close my accounts. (@LaCienegaBlvdss) April 18, 2023
The following are words said by a grown-ass man talking about a baby.
"...with a baby in a goddamned echo chamber, and you want to talk to me about being okay?"
"Did that motherf*cker pay extra?"
"You were sitting there watching that motherf*ckinbg baby cry for forty-five damn minutes."
"Lower that baby's voice."
The heroes in this video are the people recording the incident. These are the faces of people who know to remember to do it for the content. They also found this hilarious until the man got everyone deplaned.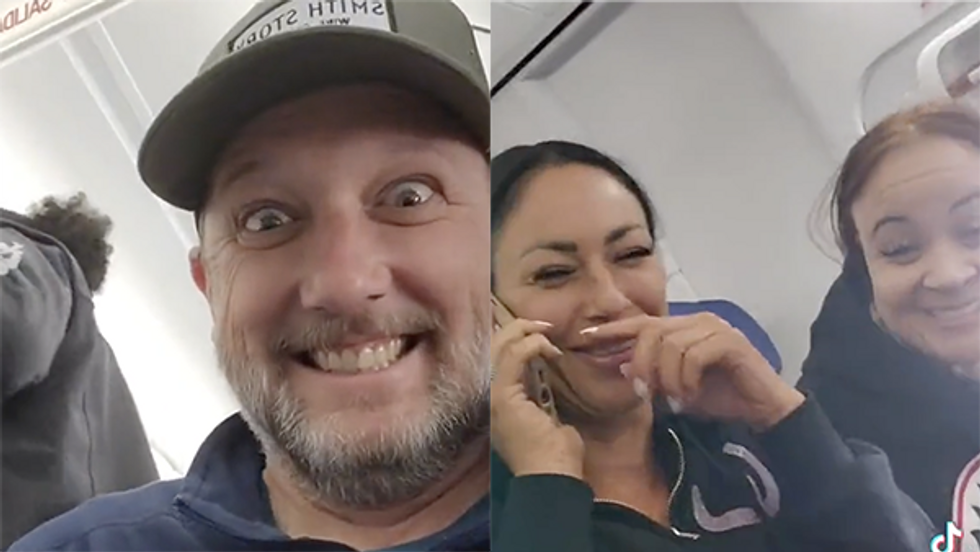 There are worst thing to happen on a plane than a crying baby for (allegedly) forty-five minutes. People have been dumped on a plane. A dude masturbated FOUR TIMES on a short flight. That's three times more than one and four times more than appropriate. Just sayin', the flight could have been more problematic.
I don't know who I feel worse for. The dude's wife who had her Florida vacation ruined? Or everyone else from the moment the dude deboarded to the Uber driver on the way home. There is not a single person this man walked past who did not hear about that goddamned motherf*cker crying on the airplane.
><><><><><><
Brodigan is Grand Poobah of this here website and when he isn't writing words about things enjoys day drinking, pro-wrestling, and country music. You can find him on the Twitter too.
Facebook doesn't want you reading this post or any others lately. Their algorithm hides our stories and shenanigans as best it can. The best way to stick it to Zuckerface? Bookmark LouderWithCrowder.com and check us out throughout the day! Also, follow us on Instagram and Twitter.